Safari Land Cruiser Hire Kenya.
Obviously, one of the best cars that we hire out is the Safari Land cruiser. When you are looking for a safari Toyota land cruiser hire Kenya you can trust Bamm tours to deliver. That said, we'd like to share valuable information about hiring a vehicle. Perhaps, you wish to hire the safari land cruiser for a trip to one of the greatest parks in the world; Masai Mara.
Or you simply want to go to a safari to Turkana County. Whatever the case there are a few things you need to consider and remember when you want to hire a safari land cruiser.
So, hit or dial; 0712004003/ 0754004003/ 0743142615, and we will be glad to serve you.
Regardless, of how many times you have hired a vehicle, these points will still prove worthy of your time. Read on to learn some of the tips we have shared. This article has about 12 points to consider when you wish to get a safari land cruiser for hire Kenya.
You should ensure that have your paperwork ready.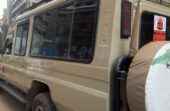 Now, there are two options when you want to get a car rental. You can either get self-drive or Chauffeured vehicles. Most of the vehicles we hire are chauffeured including Toyota Land cruiser van for hire . That said, you can be prepared enough. Remember to carry your Driving license before getting a land cruiser for hire Kenya.
Even if you are taking the chauffeured rental, you don't know when you might need to use the license. Plus, when you are getting a self-drive rental you will be required to produce your ID for security reasons. Of course, do not forget to carry your payment methods.
Check the Car Exterior during safari land cruiser hire.
Take it from us, you can never be too careful when checking the condition of the car before taking it out. If you do not check, you might find yourself paying for vehicle damages that were done by someone else. It's always advisable before you get your Safari land cruiser Kenya.
Familiarize yourself with the vehicle hire.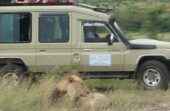 Even if you get similar model vehicles, they are all different in some aspects. Each car is unique and it does not cost anything to familiarize yourself with the vehicle. The vehicle that you will be using should have functional side mirrors, air conditioning, lights and so on and so forth.
Once you are familiar with the vehicle it becomes easier when you are on your way. Plus, if it's a self-drive, you need to confirm whether it has an automatic or manual transmission. Some people are more comfortable with either, make sure you get the right vehicle.
Be aware of your destinations and stopovers during safari land cruiser hire Kenya.
Before you even hire the land cruiser Kenya, you should ensure that you have your itinerary ready. For example, if you are going to the Mara, you need to have an idea of the places you'll make a stopover. In short, you need to plan for the entire trip.
Most of the Kenyan destinations have two ways to get to them. Besides, it helps you to budget for the things you'll be spending along the way. Our staff will help you get the ideal travel route that will be enjoyable and save you some money along the way.
Kenyan is a gem that needs to be discovered in the right way.
Get to know the kind of fuel the safari land cruiser uses
You need to confirm with the car rental agency what kind of fuel a car consumes. If the safari land cruiser hire Kenya will be your car of choice then you need to be aware of the fuel they use. Some of the vehicles use diesel while others use petrol. Additionally, the vehicles could use a specific type of fuel.
Of course, there are fewer engine vehicles with smaller cars but it's reasonable to ask.
Maintain the time
If you overstay your visit it will cost you extra charges and it's an inconvenience to the car rental company. It's impolite to add extra days or hours to your rental without notifying the company representatives.
In order to avoid all the hassles from the car rental company request for an addition or simply keep time as agreed.
Focus on the road with the car
There are different reasons people hire vehicles. For example, the safari land cruiser Kenya hire is meant for a safari. However, if you hire a Toyota Axio you shouldn't go to an expedition with it. That's why it is important to choose vehicles wisely. If you need to go off-road, then look for a car that will perform perfectly on the roads.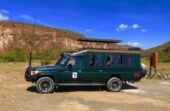 The risks involved in taking a car designed to ply highways is higher if you do not follow the rules. The car might break down from seemingly simple mistakes. However, you can avoid that by taking the right vehicle for the job.
Be careful where you park
Potentially, there are two risks associated with parking rental vehicles. One is that you can have the car stolen or towed by the council's officials. The former is a higher risk because it will bring with it a lot of inconveniences. Sometimes, it takes years before the insurance companies pay for damages made.
Secondly, for your safety, you need to be aware of the kind of traffic regulation in any county you visit. Each county has different charges and regulations.
Do not misplace the car keys
This seems obvious but we've had cases where self-drive rentals end up misplacing the car keys. Now can you imagine a situation where the car is using programmed lock systems? Then the vehicle is out and in the woods and it needs to be opened. It is a tricky situation but it's advisable to ensure that you keep the car keys safe and sound.
Finally, you should always use seat belts, do not drink and drive.
BOOK ONLINE HERE:
CALL/WHATSAPP/SMS: +254712-004-003 //0754 004 003// 0743 142 615
EMAIL: info@bammtours.co.ke