Toyota Fielder For Hire Nairobi Kenya.
Are you looking online for a reliable tour company where you can get a nice Toyota Fielder for hire in Nairobi Kenya? Well, look no further since you've just landed at the right place, at the right time. Simply pick up your phone and hit our dials; 0712004003/ 0754004003 / 0743142615. And, we will be happy to help!
Sometimes as a traveler, both local and foreign, one needs to travel within a budget, You would mostly prefer using a Salon car for your daily meetings in Nairobi and not a very big vehicle! It can either be a station wagon car for hire in Nairobi or basically a salon car.
Car Hire Companies in Nairobi.
Whenever you are in Nairobi the capital city of Kenya and are looking for the most trusted car hire company with a driver that will drive you for all your meetings, then your search is over! Bamm tours is obviously your preferred and best car hire company in Nairobi.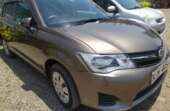 We offer a wide range of vehicles; From Salon Car, Toyota Rav 4, Toyota Alphard or Vellfire, Nissan X trail or Toyota Harrier or a Vanguard, Tour van, land cruiser, 25 seater Rosa Bus and Prado.
Luckily, we offer both self-drive and chauffer-driven car hire services in Nairobi, Mombasa, Nakuru, Eldoret, and Kisumu.
Price of hiring a car with a driver.
For only 8,000/- Kshs per day or 80$ we will provide a good driver who understands Nairobi very well to take you to all your meetings! Whether you are traveling for a holiday or for personal use, we aim to make your stay seamlessly convenient and safe. Try us today. Of course, we also have other types of cars that you can hire with a driver. Actually, almost all our vehicles are hire including a professional driver.
Car hire with a driver Nairobi.
All available saloon cars are clean, have functional Air Condition,
They are all well scented and above all, we strive to maintain the latest models
What's more, even if you need to travel outside Nairobi and beyond, we have very qualified and experienced Drivers that will make your journey en-joyful and fun besides taking you to your destination
Talk to us today and we will give you a salon car with a driver at pocket-friendly prices.
You can also book a guided tour to Nairobi National Park or any Kenya Wildlife Services park within Kenya.
We also do but under strict conditions offer self-drive for long-term customers. so if you are planning to be staying in Nairobi and you wish to drive yourself, then visit us and we will hire you a nice salon car for hire in Nairobi.
Saloon cars are the most commonly used type of transport in Nairobi by many individuals or corporate.
Toyota Fielder For Hire Nairobi Kenya.
Among some of the most versatile vehicles in Kenya, the Toyota fielder and the Probox are one of them. These vehicles are quite a number on the Kenyans roads. And let's face it, these vehicles are very good to the Kenyan masses. As such, we as Bamm tours know that Kenyans love Toyota fielder for hire Kenya. That's why we offer it at great prices. To all the Kenyans who are looking for a Toyota fielder then this is the right place. If you found us through Google then you would have noticed that our popularity has soared because of offer the best services in Car hire services especially the Toyota fielder for hire Nairobi Kenya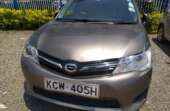 The Toyota fielder is loved by many Kenyans because of its extendable cargo space. If you are out on a business trip, especially on the outskirts of the urban centers then it will be a great buddy on the Kenyan roads. The Toyota fielder for hire Kenya comes just like most of the vehicles we offer. In addition, we offer vehicles such as the Toyota land cruiser, Toyota Rav 4, Toyota Vanguard, Toyota Axio and so on. Do not delay your journey because of the absence of a vehicle. Just get a Toyota fielder for hire from Bamm tours today.
There are a number of reasons you should hire a vehicle from us. For one we offer complimentary refreshments with our Toyota fielder for hire Kenya. We also know a thing about great customer service! In fact, that's what keeps most of our customers coming back for more. Do not hesitate to contact us for the best in Toyota vehicle hire services! You will never regret making this detection by working with one of the best; Bamm Tours and Safaris Limited Kenya.
For Bookings, Contact Us
For Bookings and Inquiries,

CALL/ SMS/ WHATSAPP:

+254 712 004 003 /0754 004 003/ 0743 14 26 15
EMAIL: info@bammtours.co.ke
www.bammtours.co.ke

Or, visit our offices; a few meters from AAR Hospital, Ridgeways, Kiambu Road.