Toyota Prado for Hire in Kenya.
This is one of the high-end vehicles that has had increased demand over the years. The Toyota Prado for hire Kenya is a vehicle that is suitable when you want to arrive in style at a grand party or event. Therefore, The Toyota Prado by Bamm Tours is also a very popular vehicle during weddings. Actually, a number of fashionable guests have also taken it up to get themselves that edge on an important or Corporate event. Whatever the case, Bamm Tours and Safaris will ensure that you get the most exquisite services with a Toyota Prado for hire in Nairobi, Nakuru, Eldoret, Nanyuki, Kisumu, and Mombasa. Undoubtedly, hundreds if not thousands of our past clients, have enjoyed it and you would too!
Simply reach out to us through Calling, SMS, or WhatsApp; 0712004003/ 0743142615/ 0754004003. Email info@bammtours.co.ke. We will be glad to serve you!
Car Hire in Nairobi.
Go on, hit that dial,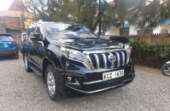 and call us now on 0712004003 or 0743142615 or 0754004003 we will get down to business right away! We will get you the best Toyota Prado for hire Kenya within no time.
They come in a myriad of colours and you can request the colour of your choice during the booking process. The Toyota Prado vehicles we offer come accessorized in the right way. In addition, we offer diesel and petrol, Toyota Prados. It's up to you to decide the best Toyota Prado for hire for your occasion –whatever that could be!
The vehicle performs quite well in the off-road terrain and it's a luxury sports utility vehicle (SUV) meaning you get the best of both worlds.
How to Hire a Prado in Nairobi.
The process of hiring the Toyota Prado for hire in Nairobi from Bamm Tours is quite easy. We have made it seamless to ensure our clients don't through unnecessary hustles! If you have found us through search engines then you can simply call us through the number +254 712 004 003 or 0743142615 or 075400403. Or you can simply write to us at info@bammtours.co.ke. You can make more inquiries about the Toyota Prado for hire Kenya via those two methods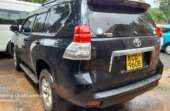 We will work with you to ensure you get to your occasion in style!
If you need the Toyota Prado Car hire on a Self-driving basis, you will first fill out this form. Also, if you need the Prado with a driver or chauffeured, you will be required to fill up this form here.
Whichever way, our main aim is to make sure that we understand your unique needs as much as possible so as to serve you perfectly.
How much does it cost to Hire a Toyota Prado in Kenya?
The cost of hiring a Toyota Prado J-150 has many variants. Number one is whether you are hiring it with a driver or on Self Drive.
Secondly, Is the destination of your hire. The longer distance it is from the point of hire, the more expensive it is. Thirdly, is the location that you are hiring it from. It is cheaper to hire a Prado in Nairobi than in any other town in Kenya.
For example, in Nairobi, The Prado on self-drive ranges from 120$ per day, Mombasa it's $150, while in Kisumu it's $200.
Land Cruiser Prado for hire near me.
In most cases, Bamm Tours is probably the best car hire company that you will land into, when looking for a Prado for hire Kenya, near you. Whether you are looking to hire while in Westlands, Donholm, Ngong, Thika, Athi River, Mombasa Road, Thika Road, Waiyaki Way, etc.. Be assured that you will finally get it from us.
Prado for hire self-drive Kenya.
Basically, upon verification of your personal documents, you can qualify to hire a Prado on a self-drive basis in Kenya. Of course, the cost of hiring ranges from $120 to $150 per day. When in need of a Prado for hire in Kenya, always reach out to us.
Toyota Prado for hire Mombasa.
Bamm Tours is the best car hire company to get a Toyota Prado J-150 for hire in Mombasa. Whether you are on your vacation or Holiday in the coastal region, in Business, or wedding, you can always rely on us. Our Prados for hire in Mombasa has functional Air conditioning as the number one key to managing Mombasa humidity. Secondly, whether you need to be picked up from Moi International Airport to your hotel, we can do that for you. The service is known as Airport transfer.
Lastly, we can pick you up from the SGR, Miritini station and transfer you to Diani, South Coast Mombasa or Ukunda.
Prados for hire in Kisumu City.
Similarly, you can hire a Toyota Land Cruiser Prado J150 in Kisumu from your best car hire company in Kenya. Please note that the cost of hiring the Prado in Kisumu is slightly higher than in Nairobi. So, you ask, How much does it cost to hire a Prado in Kisumu? The answer is $200 per day with a driver, excluding fuel.
Land cruiser rent per day.
Here are various rental prices per town in Kenya.
Nairobi $150, Nakuru $160, Eldoret $170, Mombasa $180, Nanyuki $180, Kisumu $200. 
Please note that the prices include the services of a driver, excluding fuel. Should you need fuel inclusion, please let us know so that we can do the fuel estimation.
Prados for hire in Nairobi.
By the way, it's good to include here that Prados are usually 7-seaters but we do not mostly consider them as such. The reason? The back seats are not comfortable for adults on long distances. Therefore, we normally consider it as just a normal 5-seater car.
Bamm Tours is the best car hire company to get a Toyota Prado for hire not only in Nairobi but also in Nakuru, Eldoret, Nanyuki, Kisumu and Mombasa.
Please get in touch with us for your chance to experience our services.
Welcome.
For Bookings and Inquiries,
CALL/ SMS/ WHATSAPP: +254 712 004 003 /0754 004 003/ 0743 14 26 15
EMAIL: info@bammtours.co.ke
www.bammtours.co.ke
Or, visit our Offices:
Nairobi / Main office: A few meters from AAR Hospital, Ridgeways, Kiambu Road. Carman Showroom, Ground Floor, Office number 5.
JKIA Office: Terminal 2, Kairi Tours next to Avis Car rental.
Mombasa Office: Epic Business Park, Office A33, 3rd Floor Links Rd, Mombasa.
Eldoret Office: Eldo Centre Mall, Office Number 027, Ground, Eldoret.
Nanyuki Office: Oddesey House, Office Number 1, Laikipia Road directly opposite the main entrance of Cedar Mall., Nanyuki.
Nakuru Office: Kang'ei & Nyakinyua Building, Kenyatta Avenue, Opposite Nyayo Gardens, First floor Room 9
https://bammtours.co.ke/toyota-land-cruiser-prado-rental-nairobi-kenya/