Toyota Prado for hire Kenya
This is one of the high-end vehicles that has had increased demand over the years. The Toyota Prado for hire Kenya is a vehicle that is suitable when you want to arrive in style at a grand party or event. Therefore, The Toyota Prado by Bamm tours is also a very popular vehicle during weddings. Actually, a number of fashionable guests have also taken it up to get themselves that edge on an important event. Whatever the case, Bamm Tours and Safaris will ensure that you get the most exquisite services with a Toyota Prado for hire Nairobi. undoubtedly, Hundreds if not thousands of our past clients have enjoyed it and you would too!
Car Hire in Nairobi
Go on, hit that dial,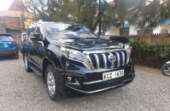 and call us now on 0712004003 or 0743142615 we will get down to business right away! We will get you the best Toyota Prado for hire Kenya in no time. They come in a myriad of colors and you can request the color of your choice during the booking process. The Toyota Prado vehicles we offer come accessorized in the right way. In addition, we offer diesel and petrol, Toyota Prados. It's up to you to decide the best Toyota Prado for hire is for your occasion –whatever that could be! The vehicle performs quite well in the off-road terrain and it's a luxury sports utility vehicle (SUV) meaning you get the best of both worlds.
How to Hire a Prado in Nairobi
The process of hiring the Toyota Prado for hire Nairobi from Bamm Tours is quite easy. We have made it seamless to ensure our clients don't through unnecessary hustles! If you have found us through search engines then you can simply call us through the number +254 712 004 003 or 0743142615. Or you can simply write to us at info@bammtours.co.ke. You can make more inquiries about the Toyota Prado for hire Kenya via those two methods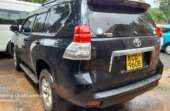 We will work with you to ensure you get to your occasion in style!
You can easily hire the vehicle from us at affordable prices! You can easily reach us through our phone number
+254 712 004 003

/0754 004 003/

0743-142-615