Toyota Hiace For Hire in Kenya.
Are you looking for a Toyota Hiace for hire in Kenya online? Well, look no further because you are now at the right place for all your vehicle hire needs. So, simply pick up your phone and hit our dials, 0712004003 /0754 004 003/ 0743142615, and we will be glad to serve you!
Van for Hire with driver.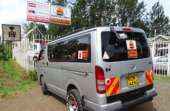 Of course, Toyota Hiace for hire Kenya van comes with a driver with or without fuel. In other words, there's no self-drive for vans, especially the Tour Vans and 14 seaters. The only exception is when you are hiring either a Toyota Noah or Voxy. The latter has the option of Self-drive. Therefore, whenever you are looking for a van for hire with a driver, just know that you are at the right place, and we have a couple of them for you.
Tourist van for Rent.
Since we started as a tour company, you are guaranteed professional tourist services whenever you travel with us. Needless to say, we have quite a number of Tourist Van for rent. Normally, the Tourist van for rent is either Toyota Hiace for hire in Kenya or Toyota Land Cruiser Van. Basically, the van is customized to suit the needs of both rough and muddy African terrain. For example, we install 4×4 Wheel Drive, a pop-up roof, and a UHF radio.
Van hire Kenya.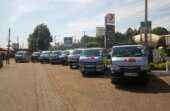 Apparently, there are several types of van hire Kenya amongst Toyota Hiace for hire Kenya. For instance, a 7 seater van for hire, 14 seater vans, and a Tour van. Additionally, we too have buses for hire, just in case the number of travelers is higher than 14. Our buses for hire include an 18 seater bus, a 22 seater bus either a Toyota Coaster or a Rosa Bus. 33 seater Isuzu bus, 44 or 50 Seater bus.
14 Seater Van for hire in Nairobi.
One of our best Toyota Hiace for hire in Kenya is a 14 seater van for hire in Nairobi. The beautiful thing about this vehicle is because it can carry a capacity of two tour vans or a Voxy or a Nissan Serena for hire. Whether you need it for a private function, corporate activities, and team building, this van is the best.
Vans for hire Nairobi.
Definitely, whenever you need any vans for hire in Nairobi, always inquire about them from us, we have a limitless number of them. We have a wide range including Toyota Hiace for hire in Nairobi.
7 Seater Car hire Nairobi.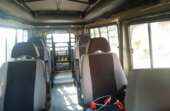 Mostly, this is the most sought after as a van for hire. Whenever people travelling together exceed the capacity of a salon car, they go foe a 7 seater car hire Nairobi. For instance, a Toyota Wish for hire, a Toyota noah for hire, toyota Voxy for hire, or Nissan serena. Luckilly, we have all of them available for you.
Noah car hire Nairobi.
By the way, amongst all the vans available for rent, a 7 seater van, Toyota Noah car hire Nairobi, is the most popular one with many Kenyans. A lot of people travelling in the country prefer the Toyota Noah for both the beusty and its seating capacity. However, it is not advisable for doing a game drive, for instance in either Masai Mara, Samburu, Tsavo or Amboseli. We have Toyota Hiace for hire, in this case a tour van, for such purposes.
For Inquiries or Bookings
Call/SMS/WhatsApp:

0712004003 /0754 004 003/0743142615
EMAIL: info@bammtours.co.ke
[maxbutton id="2″ url="https://bammtours.co.ke/product/tour-van/" ]