Tour Van For Hire Nakuru Kenya.
Are you looking online for a reliable tour operator in Kenya to get a Tour van for hire Nakuru town? Well, look no further than Bamm Tours. We have a wide range of nice and affordable safari vans for rent. So, simply pick up your phone and hit our dials on 0743142615 //0754 004 003// 0712004003 and we will be glad to serve you.
Van for hire with Driver.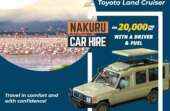 Obviously, all our tour van for hire Nakuru are chauffeured. That is to say, all the vans are hired or rented out with a driver. Of course, the driver is an experienced tour guide profession. His main job is to ensure that you maximize your game drives, get there on time, and finally get to see all the wild animals. Therefore, it makes sense in hiring tour vans with a driver. Whether in Nairobi, Nakuru, Mombasa, Kisumu, or Eldoret, always get our tour vans for hire with a driver!
Safari Vans For Hire In Nakuru Kenya.
Apparently, whether you prefer using a tour van for hire Nakuru, or a Safari van for hire Nakuru, we understand. Whatsmore, we will go the extra mile to ensure you maximumly enjoy our services. There are two types of safari vans for hire in Nakuru town. Namely, Toyota Hiace tour van for hire and Toyota Land Cruiser safari van for hire Nakuru. Both of them are eight-seater vans, four-wheel drives with pop-up roofs, UHF Radio, and cooler boxes among other facilities. However, the latter, the Land Cruiser, is more luxurious than the Hiace for hire.
Salon car hire in Nakuru.
Alongside Van for hire Nakuru, we stock saloon cars for hire for private uses. Some of these vehicles for hire in Nakuru town include Toyota Fielder for hire Nakuru and Toyota Axio for hire Nakuru. Additionally, we have 7-seater vans for hire. For example, a Toyota Noah for hire Nakuru and Toyota Voxy for hire Nakuru.
Bus for Hire Nakuru.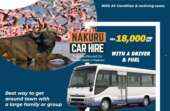 Whenever you have a large group of people that would want to travel together, you can always count on our Buses for hire Nakuru. For example, an organization may decide to go for team-building activities in or around Nakuru town. Whenever that happens, they can hire our 22 to 28-seater Rosa or coaster buses for hire. Equally, whenever a family, friends or relatives would like to attend a social gathering such as a wedding, dowry/ ruracio, Funeral or burial of a loved one, they can get our buses for hire.
Wedding Cars for hire Nakuru.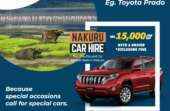 In addition, to the tour van for hire Nakuru, you can also get wedding cars from us too. For example, A Toyota Prado TX150 for wedding hire. Secondly, you can get a Toyota Land Cruiser V8 for hire Nakuru for weddings as well as Range Rover for hire. Definitely, we work closely with wedding transporter companies such as Ziwaki Enterprises in order to deliver this successfully.
Car Hire with a Driver Nakuru.
Conclusively, it's good to indicate that we specialize in all types of car hire with a driver in Nakuru, Nairobi, Mombasa, Kisumu, and Eldoret town. So, whenever you need an executive car hire services in Nakuru, always call us. we are just a call away.
For Bookings and Inquiries,

CALL/ SMS/ WHATSAPP:

0712004003 //0754 004 003// 0743142615
EMAIL: info@bammtours.co.ke
www.bammtours.co.ke
Or, visit our offices; a few meters from AAR Hospital, Ridgeways, Kiambu Road.