Safari Van Hire in Kenya.
Are you looking online for a reliable tour company that you can get a nice safari van for hire in Kenya? Well, look no further since you've just landed at the right place, at the right time. Simply pick up your phone and hit our dials; 0712004003/ 0754004003 / 0743142615. And, we will be happy to help!
To begin with, Nissan and Toyota have been competing in the Van market in Kenya and perhaps, the rest of the world. However, Toyota is a bigger brand and has cemented its authority in the tour industry. So, it's not a surprise that you will notice that most safari van hire Kenya are Toyotas. There is a reason behind this! One factor is that the new model is built tough for the Kenyan road especially the safari terrain. Furthermore, these vehicles have the right characteristics for comfort. When you are riding these vehicles commonly referred to as shuttles on long-distance journeys you can attest to that! You will hardly miss a Toyota van on the road either for a safari or ferrying passengers.
Tour Van for hire Kenya.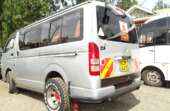 Therefore, it's no wonder that we are offering safari van hire Kenya. These vehicles come with specially designed seats and air conditioning. The seating capacity is reduced to ensure maximum comfort. Our tour guides are professional in every sense of the word. They understand the importance of communication skills. Also, they are well-traveled in the country and the greater East African region. Once they hit the road they perform magic. So, we must warn you that you will enjoy your ride –which is beneficial to you from all angles!
4by4 Car hire Kenya Nairobi.
Normally, Kenya being an African country, means that the road to many wonderful locations is undeveloped. Having said that, therefore, it means that you will require a 4×4 wheel drive vehicle for hire quite often. Whenever that happens, you can rely on Bamm tours to get you nice off-road vehicles for hire such as Tour vans for rent, Toyota Prado Tx 150, Land cruiser V8 for hire, and Safari Land Cruiser Van.
We would like you and the company to enjoy your ride with a safari van hire Kenya. Because it's your right. You get value for your money. Plus you get to enjoy well-choreographed safaris with us. You get the best in the business when you hire us! Go on calling us now and we will deliver the time of your life with our charismatic drivers and comfortable vehicles!
Car Hire in Nairobi Kenya.
The Safari van is one of the most sought-after cars hired in Nairobi. It is mainly hired to visit Kenya's National Parks and game reserves, under KWS. Therefore, we rent it out as a chauffeured vehicle. In other words, we offer it as a Nairobi car hire with a driver. Of course, we have other types of cars for hire in Nairobi, us being the best. From Salon cars or Sedan, or Hatchbacks cars for hire to 7 seaters, 8 seater vans for hire, 10 seaters, 11 seater vans, and 14 seater vans. Additionally, we too stock 18-seater buses for hire, 22-seater buses, 33-seaters, 44-seater bus for hire, and finally the 50-seater bus for hire.
14 Seater Van for hire in Nairobi.
Sometimes, the number of people requiring the safari van may exceed 7 passengers. In this scenario, we advise the use of our 14-seater Van for hire to accommodate the rest. Similarly, we have 14-seater vans in major towns such as in Mombasa. So, a van to take you around kenya, you can consider hiring a 14-seater van instead of two safari van hire.
Land Cruiser for hire in Nairobi.
For you to experience great African game drives while in the parks, we advise hiring our Toyota Land Cruiser safari van. This vehicle is able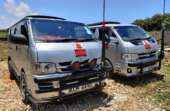 to comfortably handed both wet and rough African terrains. It is a 4by4 Wheel drive vehicle. However, it is a bit more pricy to hire since the cost of hiring a safari van in Kenya is affordable though. For example, during the peak season, a Toyota Hiace tour van goes for 180$ while the Land Cruiser safari van goes for 300$ per day. The cost includes a van hire, driver or tour guide allowances, fuel, and park fees for both the van and driver. Nevertheless, as they say, cheap is expensive. So go for the latter.
It really saves to work with Bamm Tours and Safaris limited!
You can easily hire a vehicle from us at affordable prices!
You can easily reach us through our phone number

+254 712 004 003

or

0743142615 /0754 004 003/
For Bookings and Inquiries,

CALL/ SMS/ WHATSAPP:

+254 712 004 003 /0754 004 003/ 0743 14 26 15
EMAIL: info@bammtours.co.ke
www.bammtours.co.ke

Or, visit our offices; a few meters from AAR Hospital, Ridgeways, Kiambu Road.