44 Seater Bus For Hire Nairobi.
When looking for a comfortable means of transport to move from one point to another always look for a 44-seater bus for hire in Nairobi Kenya. Bamm Tours has a wide range of buses for hire at your disposal. Call/SMS/ Whatsapp: 0712004003/ /0754 004 003/ / 0743142615. Please email us at info@bammtours.co.ke. We will be glad to serve you!
18 Seater Buses For Hire Kenya.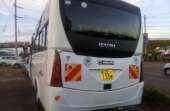 During coronavirus times, because of Social distancing rules, a 44-seater bus for hire in Nairobi carries about 25 passengers. Of course in normal times, it carries a capacity, of 44 passengers. However, when the number of travellers reduces, our company advises on the best buses available for hire. In most instances, we recommend a Toyota Coaster or a Rosa Bus to carry 10 to 15 passengers.
However, the Kenya Government has now thrown out all the social distancing rules. Therefore, a 44-seater bus now carries 44 passengers comfortably. Consequently, an 18-seater bus carries its maximum number of passengers. Phew! Thank God!
Long-Distance Bus Hire Kenya.
A 44-seater bus for hire in Nairobi is good for long-distance travel. So, next time you think of taking a group of people outside the city, Consider this bus a good option. These bus seats are comfortable and have enough legroom space such that the passengers will rarely get tired due to the long hours spent while seated.
Traditionally, we have provided this type of bus to various religious organisations to travel outside Kenya. For example, we have travelled to East African countries such as Uganda, Tanzania, and Rwanda, as well as to Zambia, and Burundi. Sometimes long-distance travel is called Safari.
Needless to say, perhaps you are looking for a bus to travel from Nairobi to Mombasa, Nanyuki, Kisumu, Eldoret, etc. You are at the right place to hire long-distance buses. Try us out today. Let us know where you need to travel. We will take you there comfortably, conveniently, safely, and affordably.
Kenya Buses For Hire.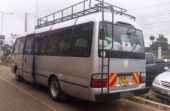 Bamm Tours has a wide range of available buses for hire in Nairobi Kenya amongst our 44 seater buses for hire. We have 7-seater vans for instance; Toyota Voxy or Noah, Tour Vans, and Land Cruisers. Secondly, we have 14 Seater private vans, 22-seater coaster buses, and 33-seater Isuzu Polo Bus. Last but not least we have 50 seater buses for hire available for.
Therefore, it means that Bamm Tours is your last stop for any type of bus you need to hire. To us, it doesn't matter the capacity of your group of people. Actually, you can hire more than one type of bus irrespective of the type. Should you need to have a close look at our available buses for hire, please check in here. Alternatively, you can drop us an email, ask for a quotation here, or use different ways to get in touch with us.
Nairobi 14-Seater Van for Hire.
This is the most preferred type of van for hire by many Kenyans. Reason? It is because the local popular Matatus carry 14 maximum number of passengers and therefore, in the mind of many people, all vans carry 14 people. It goes without saying that, bamm Tours has the best 14-seater vans for hire in both Nairobi and Mombasa.
Our 14 seater vans are not the famous matatus that you see every day on our Kenyan roads, No. They are also known as Private Vans for hire. Secondly, they are both executive and luxurious since they have reclining passenger seats and functional air conditioners. Whatsmore, their drivers are professionals, well trained and experienced for driving long distances.
25-Seater Buses for Hire Kenya.
If you need to travel in a luxurious private bus, then a 25-seater bus for hire, in this case, a Toyota Coaster or Rosa, the bus is the perfect choice for you! 44 seater bus for hire does not come with a reclining seat like a Mitsubishi Rosa or Toyota Coaster bus. They are not fitted with functional Air Conditions either. The latter are basic buses.
In other words, should you need a bus that combines comfort and luxury, always go for the 22 to 28-seater executive buses for hire in Kenya.
The Cost of Hiring a Bus for a day.
The cost of hiring a 44-seater bus for hire in Nairobi ranges from KES25,000/- Per day within Nairobi. This price includes; Fuel, Bus Hire, and the driver's allowances. Of course, the prices change with a change in distance, passengers, and the duration of hire. Always contact us when in need of a travel bus for a comprehensive quotation. Additionally, the cost of hiring a bus today is increasing with the current increase in fuel and cost of living. Therefore, we recommend that you always check with us the price to your destination before booking.
14-Seater Matatu for Hire.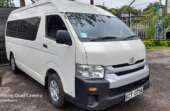 Our 14 14-seater private vans are popularly known as 14-seater Matatu for hire by many Kenyans. We do not take any offence in this. since we understand their reasoning. These types of vans are however smaller than our 44 seater bus for hire. Similarly, we have 14 seater vans available in Nairobi, Mombasa, and Eldoret.
33 Seater Matatu for Hire.
Whenever a group of travellers reduces from 44, we recommend the use of a 33-seater matatu for hire. We have them in stock too. In fact, we have them available in Nairobi as well as in Mombasa. They are suitable for Airport or SGR transfer services. 33-seater buses for hire are either Isuzu or Mercedes Benz Bus For Hire. By the way, we also have in stock a 29-seater and a 35-seater Mercedes bus for hire in Nairobi.
For bookings,
CALL/ SMS/ WhatsApp:

0712004003 //0754 004 003// 0743142615
EMAIL:
info@bammtours.co.ke
JKIA Office: Terminal 2, Kairi Tours next to Avis Car rental.
Mombasa Office: Epic Business Park, Office A33, 3rd Floor Links Rd, Mombasa.
Eldoret Office: Eldo Centre Mall, Office Number 027, Ground, Eldoret.
Nanyuki Office: Oddesey House, Office Number 1, Laikipia Road directly opposite the main entrance of Cedar Mall., Nanyuki.
Nakuru Office: Kang'ei & Nyakinyua Building, Kenyatta Avenue, Opposite Nyayo Gardens, First floor Room 9