14 Seater Matatu Hire Nairobi Kenya.
Toyota Hiace For Hire Kenya.
The 14 seater matatu is a regular vehicle on the Kenyan roads. Therefore, it is regarded as one of the best modes of transport in Kenya. The 14 seater Matatu hire Kenya has a long history in Kenya. During the president's Moi Era, they would carry about 18 Passengers. However, after 2002, they became the 14 seater Matatu. NTSA now regulates this industry with rules popularly known as Michuki rules.
Private Vans For Hire Nairobi Kenya.
The Popular van that Bamm tours usually hires out for tours uses a similarly sized vehicle. But the Private 14-seater private tour has less sitting capacity for comfort. They carry around 8 and 7 people. But the 8-seater vehicle is more popular than the 11-seater van for hire in Kenya.
14 Seater Car Hire Nairobi.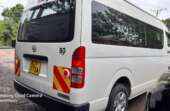 There are a number of reasons that would motivate anyone to hire this particular vehicle. For one, the 14 seater Van has the ability to carry more people than the 7-seater vehicles. This means that if you wished to carry twice the same people you would with a, let's say Noah or Voxy then the Matatu is the way to go.
Secondly, The 14 seater Matatu is cheaper than the 11 seater. The 8 seater tour van has been designed for tours which are a bit expensive. But a 14 seater Matatu hire Kenya is not as expensive. The reasoning behind this is the fact that the tour van has other inclusion such as drinking water and comfortable seats with more legroom.
Get a 14 seater Bus hire Kenya from Bamm tours.
When you are looking for the best 14 seater Matatu hire, look no further than Bamm Tours Garage. We have them in different shapes and colors and you get to enjoy them any day of the week.
We've been in the industry for some years now and when you work with us you'll never regret it. Bamm tours will service you with the right 14 seater Matatu within a short time after requesting!
After all, we have both the vans and buses available for you. Whether you are looking for a 14-seater bus for hire, 22 seater, 33 seater, 44 seater, or 50 seater bus for hire.
CALL/WHATSAPP/SMS:
+254712-004-003 //0754 004 003// 0743-142-615
EMAIL: info@bammtours.co.ke
[maxbutton id="1″ url="https://bammtours.co.ke/product/14-seater-private-van/" ]
https://bammtours.co.ke/private-safari-tour-van-hire-kenya/