14-Seater Matatu Hire In Kenya.
The 14-seater matatu van is a regular vehicle on the Kenyan roads. Therefore, it is regarded as one of the best modes of transport in Kenya. The 14 seater Matatu hire Kenya has a long history in Kenya. During the president's Moi Era, they would carry about 18 Passengers. However, after 2002, they became the 14-seater Matatu. NTSA now regulates this industry with rules popularly known as Michuki rules.
Therefore, if you have found us online, please get in touch with us. please CALL/SMS/WHATSAPP: 0712004003/ 0743142615/ 0754004003. Email us at info@bammtours.co.ke. We will be glad to help you!
Toyota Hiace For Hire Kenya.
One of the major types of 14-seater vans for rent in Kenya is, of course, A Toyota Hiace Van. This is not to say that we do not have the 14-seater Nissan Matatu van for rental. No. However, the Toyota Car hire types are the most common. In Africa, especially Kenya, maintaining any type of Toyota car is easier than any other type. Thereby making the Brand type very popular. So, it's not a wonder that the next time you ask for a 10-seater minivan for rent, you will certainly get a Toyota Hiace.
By the way, we also have the same Toyota Hiace Tour van. The latter is an 8-seater van which is mainly used for game drive car hire. You can rent one to visit National Parks such as the Nairobi city tour, Masai Mara, Amboseli, Tsavo, and Samburu, among others.
Private Matatu Vans For Hire.
Sometimes, a need arises whereby an individual or corporate organisation needs to travel together. For them to do so, if you have a group of 14 passengers, it is advisable to rent the 14-seater van. The decision ensures that you get the best minivans, at an affordable rate. Finally, your group travels privately and professionally.
Actually, the most popular van that Bamm Tours rents out for tours is a 10-seater Minibus. Normally, the van is hired out to attend private functions such as; Weddings, Ruracio or Dowries, Burials or funerals, as well as team building activities.
By the way, you can hire a van within Nairobi as well as outside Nairobi and Kenya. But the 8-seater private tour has less sitting capacity for comfort. The Toyota Hiace Tour Vans carry around 8 and 7 people. But the 8-seater vehicle is more popular than the 11-seater van for hire in Kenya.
Best 14-Seater Van Hire Nairobi.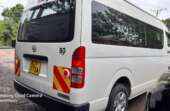 There are a number of reasons that would motivate anyone to hire this particular vehicle. For one, the 14-seater Van has the ability to carry more people than the 7-seater vehicles. This means that if you wished to carry twice the same people you would with, let's say Noah or Voxy then the Matatu is the way to go.
Secondly, The 14 seater Matatu is cheaper than the 11 seater. The 8 seater tour van has been designed for tours which are a bit expensive. But a 14 seater Matatu hire Kenya is not as expensive. The reasoning behind this is the fact that the tour van has other inclusions, such as a pop-up roof, and comfortable seats with more legroom.
Get a 14 seater Bus hire Kenya from Bamm Tours.
When you are looking for the best 14-seater Matatu hire, look no further than Bamm Tours Garage. We have them in different shapes and colors and you get to enjoy them any day of the week.
We've been in the industry for some years now and when you work with us you'll never regret it. Bamm Tours will service you with the right 14-seater Matatu within a short time after requesting it!
After all, we have both the vans and buses available for you. Whether you are looking for a 14-seater bus for hire, 22-seater, 33-seater, 44-seater, or 50-seater bus for hire.
How Much Does it Cost to Rent a Van in Kenya?
I get asked this question every day. Currently, the cost of renting an executive private 14 seater van for hire is KES16,000/- per day. Of course, the cost for short distances such as the Airport transfers will be cheaper. The above cost includes the services of a professional driver and fuel within Nairobi.
We also have affordable shuttle rental for 14 passengers in Mombasa. So, next time you find yourself in Mombasa, you know where to turn to. We can plan to pick you up from the Moi International Airport or SGR Miritini and take you to your hotel. Whether in Nyali, Diani, Watamu or Kilifi. Do let us know.
Similar to minivan shuttles in Nairobi, our executive 14-seater Matatu vans are driven by well-trained and qualified professionals. Therefore, you don't need to worry. Just tell us where to pick you up and where to drop you off. Leave the rest to us!
10-Seater Mini Van Rental.
Usually, when people ask for a 10-seater van, we recommend the use of a 14-seater one. This is because we don't have an exact 10-seater van. After an 8-seater Tour van, the next available van is the 14-seater Toyota Hiace Van. In addition, the prices are the same, anyway.
Simultaneously, if you ask for a 16 or 18-seater van, we will recommend you either a 22-seater Rosa or Coaster Bus. Luckily, we have the buses for hire available in not only Nairobi, but also in Nakuru, Eldoret, Kisumu, Nanyuki, and Mombasa.
CALL/WHATSAPP/SMS:
+254712-004-003 //0754 004 003// 0743-142-615
EMAIL: info@bammtours.co.ke
Or, visit our Offices:
Nairobi / Main office: A few meters from AAR Hospital, Ridgeways, Kiambu Road. Carman Showroom, Ground Floor, Office number 5.
JKIA Office: Terminal 2, Kairi Tours next to Avis Car rental.
Mombasa Office: Epic Business Park, Office A33, 3rd Floor Links Rd, Mombasa.
Eldoret Office: Eldo Centre Mall, Office Number 027, Ground, Eldoret.
Nanyuki Office: Oddesey House, Office Number 1, Laikipia Road directly opposite the main entrance of Cedar Mall., Nanyuki.
Nakuru Office: Kang'ei & Nyakinyua Building, Kenyatta Avenue, Opposite Nyayo Gardens, First floor Room 9
https://bammtours.co.ke/private-safari-tour-van-hire-kenya/