50 Seater Bus For Hire Nairobi.
Do you have a group of 50 people that you want to transport as from Nairobi? Are you wondering what type of transportation to use? Well, worry no more because  Bamm tours are here to help. We have the best of the best 50 seater bus for hire Nairobi. Simply Call/SMS/ Whatsapp: 0712004003 / /0754 004 003// 0743142615. we will be glad to serve you!
18 Seater Buses for hire Kenya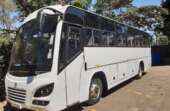 Whenever the number of travelers reduces from 50 to 15 people, we prefer the use of an 18 seater bus for hire. In most cases, the bus in question is a Toyota Coaster or a Mitsubishi Rosa bus for hire.
Buses for Hire Nairobi Kenya.
Sometimes, many people enjoy traveling as a group to various functions. For example, Dowry functions, Funeral or Burial, Team Building activities, or just Holiday vacations. When they do, they begin searching for reliable 50 seater buses for hire Nairobi. We come in handy for all types of buses for hire Nairobi Kenya since we are the best above the rest!
Long-Distance Bus hire Kenya.
50 seater buses for hire are known to be long-distance travel buses because of their superiority. They are designed in a way that they are able to cover distances without much struggle because they have bigger engines than small vans. So, next time you are thinking of moving your family, relatives, friends, or colleagues outside Nairobi in one vehicle, simply inquire from us.
Cost of Hiring a Fus for a day.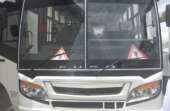 The cost of hiring a bus a day depends on various factors. But the cost of hiring a 50 seater bus Nairobi ranges from KES20,000/- within Nairobi. Always inquire if the distance, venue, or the number and dates of travel are different. Our Charges are affordable.
25 Seater Buses for hire Kenya.
Also known as Rosa bus for hire, the 25 seater buses for hire Kenya is the most popular than even a 50 seater bus for hire. They are smaller in size and carry half the capacity of our buses. Bamm Tours also has them in stock. Check them out here.
14 Seater for hire Kenya.
The smaller the number of travelers, the less capacity vehicle does we advise. In other words, when the number of travelers reduces from 50 or 25, we advise clients to use a 14 seater van for hire and not a 25 seater bus or 50 seater bus for hire, simultaneously.
14 Seater Matatu for hire.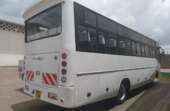 For some reason, Kenyans, in general, refer to our 14 seater Private vans for hire as Matatus. Nevertheless, we have them in stock too. But, there is a big difference between our private vans and matatus. Ours are luxurious, professionally run, or driven. Thirdly, they are comfortable because they have reclining seats, window curtains, and functional Air Condition.
Matatu for Hire Nairobi.
It should be noted that as much as we run the transportation business in Kenya, our 50 seater buses for hire are not equivalent to Matatus. There is a huge difference in both. Try our services today and you will never regret it.
For Bookings,
Call/SMS/ WhatsApp:
0712004003 //0754 004 003// 0743142615
EMAIL:
info@bammtours.coke