25 Seater Buses for Hire Nairobi Kenya
Small scale or conservative MPVs will, in general, be vehicles that can convey an additional 25 travelers when required, even though the two extra seats must be, for the most part, just appropriate for everyone. At Bamm Tours and Safaris, we have 25 seater buses for Hire Nairobi Kenya accessible. So, end your google search now and Simply Call/ SMS/ WHATSAPP: 0712004003 /0754 004 003/0743142615.
Hiring a Bus in Nairobi.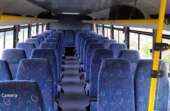 The hiring of 25 seater buses in Nairobi Kenya includes day choices, including conveyance and assortment. You would then be able to top up your recruit with additional items, for example, executive vehicle seats all-around insurance protection cover on the off chance that you are taking the vehicle upcountry.:
Try not to be put off by the word small'. These vehicles are functional as well as extensive, and agreeable as well. They're a lot bigger than most buses in the market partners, and many have adaptable insides where the seats can be arranged, collapsed, flipped, and stowed, contingent upon your travelers and need.
25 seater buses for hire Kenya
At Bamm Tours and Safaris, we Hire out 25 seater buses for Hire Nairobi Kenya accessible, one of the greatest and most viable MPVs available. Compared to a portion of the other options, it has 25 full seats and space for capacity and conveying things just as your travelers.
18 seater buses for hire Kenya
This type of bus comes in handy whenever you need to transport a number of people less than its counterpart 25. They become the best alternative type of Shuttle van or bus. We advise customers to let us know the exact number of people to expect in a team so that we are able to plan the most preferred type of bus in advance.
Long-Distance Bus Hire Kenya
Are you looking for the best type of bus to hire for your long-distance journey? look no further since 25 seater bus for hire Nairobi Kenya is your number one choice. it's actually second to none! 
What is the cost of hiring a bus for a day?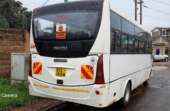 We have heard this question each and every single day. Cost of hiring a bus for a day, Of course, we've discussed this in our previous articles. We wish we had one fixed answer, but we don't. The prices vary depending on the distance, time, type of bus to hire. Always let us know in advance all these details and we will be glad to help you form a very enjoyable transport service today.
14 Seater For Hire Kenya.
If a group of travelers is less than 15, we recommend the use of a 14 seater van for hire in Nairobi Kenya. You can have a look at them here. Relatively, they are the best means of transport for a group that exceeds 7 passengers up to 14 Passengers. Additionally, our private 14 seater vans are executive. In other words, they have comfortable reclinable seats, have air condition, spacious, among other features.
Seater Matatu For Hire.
Matatu comes with different seating capacities such as; 10, 14, 18, or even 33 and 50 seaters. Luckily, as the best car hire company specializing in buses for hire, we have all of them available for you! It is good we let you know at this point that we also stock a 33 seater bus for hire alongside our coaster buses for hire. With us, you are sorted when it comes to transportation services. Let us know what kind of bus you need and we will be glad to help.
Shuttle Hire Nairobi.
Nairobi has not really grown in terms of public transportation. However, whenever you need a shuttle bus for hire in Nairobi, we come in handy. we have a wide range of different types of buses available for hire. Conclusively, therefore, whichever the kind of bus or van that you need to transport a group of people, to whichever location, we have them available. Simply get in touch using the contacts below. Definitely, we will be happy to serve you! Welcome.
Call/ WhatsApp/ SMS: 0712004003 /0754 004 003/ 0743142615
Email info@bammtours.co.ke
[maxbutton id="1″ url="https://bammtours.co.ke/product/22-seater-bus/" ]