22 Seater for Hire Nairobi Kenya
The hiring of 22 seaters in Nairobi, Kenya, two days, including conveyance and assortment. A portion of the more giant busses accessible is more likened to changed-over vans than their more modest namesakes with their payload territory supplanted with seating. These will convey up to 22 travelers and are fundamentally more roomy inside, contributing more legroom and capacity than the more modest 14-seater forms.
The principal preferred position of a 22 seater for Hire Kenya is the adaptability it gives. Decisions of side and backsliding entryways improve availability. Numerous models permit you to overlay down the back seats, and now and again even eliminate them, to empower utilization as you would do with a standard van. This is ideal for shipping enormous things, for example, furniture, alongside the additional advantage of being a decent decision for those with disabled travelers as there is a very sizable amount of space for wheelchairs or portability bikes.
Busses For Hire Nairobi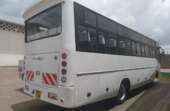 At Bamm Tours and Safaris, we have large buses like the Toyota Coaster, Mitsubishi Rosa Bus, 33 seater Isuzu Bus and 22 seaters for Hire Kenya accessible available, ideal for securely moving individuals to and from any place you need to go. For seating up to more than 14 travelers, this kind of vehicle is excellent if you needn't bother with all the room a minibus offers.
18 Seater Buses for hire Kenya
In cases where the travelers are less than 20 passengers, we normally tend to use an 18 seater bus for hire instead of a 22 seater bus. they are mostly the Mercedes model and not Toyotas, Isuzu, or Scania.
14 Seater for Hire Kenya.
When the number keeps reducing from 22, we have available 14 seater vans for hire too.
This type of van comes in handy when you are transporting a smaller group of people. rather than using a bigger bus to transport a small number of people, which is a waste of resources.
Long-distance Bus Hires Kenya.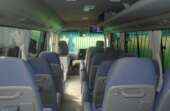 Did I mention that our 22 seater buses are the best when it comes to long-distance travel? well, the number one reason is their comfortability since they have reclining seats.
 Their windows are either tinted or it has window meaning it allows minimal sunlight inside the vehicle.
Functional air Condition to keep the vehicle cool throughout your entire journey. amongst other reasons.
Shuttle Hire Nairobi.
Whenever you have a private function, always think of hiring a 22 seater van as a shuttle for all your travel needs. We have shuttle vans and buses that cross Kenya's Border to Tanzania every day to Arusha or Moshi.
33 Seater Matatu For Hire.
When the traveler number exceeds 22, the next available bus for hire is a 33- seater bus. Even though this type of bus is not as fancy as a coaster bus for hire, we use it when the number is more than 22. They are normally Isuzu and not Toyota Bus.
51 Seater Bus Price in Kenya.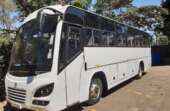 This is the largest private Shuttle bus in Nairobi Kenya at the moment. %0 seater bus has gained popularity when Corona came to our country. the reason is simply that the government introduced a new law called Social Distancing. 
As much as this bus has 51 Seats, it carries about 25 people during Corona times. Always inquire through our office for your quotation as it depends on various factors such as;
number of travel days,
number of travelers
Season
Destination of travel
itinerary
The cost always includes; Fuel and drivers allowances
Their models are Isuzu and Leyland bus fr hire Kenya.
So next time you are thinking to transfer a number of people, feel free to talk to us.
For Bookings.
Call/ Sms/ Whatsapp:

0712004003 /0754 004 003/0743142615
Email: info@bammtours.co.ke
[maxbutton id="2″ url="https://bammtours.co.ke/product/22-seater-bus/" ]