Toyota Wish For Hire Nairobi Kenya.
If you have found us through a Google search, it means that you are at the right place and at the right time. Our company ranks among the best Car Hire companies in Kenya that you can get a Toyota Wish for hire Nairobi alongside other types of cars. So, if you are certain that you have gotten to the home of Car hire Nairobi, simply hit our dial 0712004003 //0754 004 003// 0743142615 and we will be glad to assist.
We will make sure we get you not only a good car but also at an affordable fee in a friendly way. Additionally, we have laid down a systematic way that makes sure you get the services in the most efficient and effective way. Therefore, while working with us, you can be sure to get only but the best.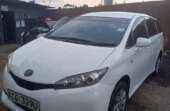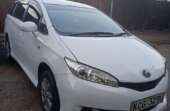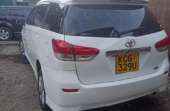 Car Hire Nairobi.
In our garages, we have a wide range of vehicles available for hire. actually, if you are to visit our garage, you will be spoilt for a choice. Our vehicles range from basic Salon cars, for example, Toyota Axio and Fielder for hire, which we rent at $30 per day
Secondly, We have Premium vehicles in the category of Toyota Mark x and Crown for hire. The cost of hiring this type of car is $50 Per day for self-drive without fuel. By the way, between the Basic and the Premium cars, we have Medium ones in the example of Toyota Premio, Allion, and Wish for hire Nairobi. Always let us know which type of car you are looking for beforehand.
Toyota Vanguard for Hire Nairobi.
This our Third category in which we group our Mini Suvs on. For example, Toyota Vanguard, Rav4, and Nissan XTrail for Hire. The cost of hiring a car in Nairobi is about $60 per day as a self-drive option. $80 as Chauffeured option.
Vans For rental Nairobi.
Fourthly, we have 7 seater vans for hire in the example of Toyota Noah or Voxy. The smaller vans carry about 7 Passengers. We hire them our for just as little as $60 per day on self-drive, an $80 chauffeured option.
Nairobi Prado For Hire.
Like I said before, we have a wide range of vehicles available for hire. Toyota Prado is the most preferred by many owing to the fact that its classy, comfortable and can tackle muddy terrain easily with no difficulty. We hire them at just $130 Per day on the self-drive option.
We too have the Toyota V8 for Hire Nairobi.
Mercedes Benz for Hire Nairobi.
Bamm Tours has a fleet of Merced Benz available for rent alongside Toyota Wish for hire Nairobi. Our Benz ranges from C-Class, E-Class and S-Class. All are available from Airport transfers, Chauffeured daily hire for either a business meeting or a wedding. On the other hand, we too have Range Rover for Hire for the same uses.
Buses For Hire Kenya.
Last but not least, comes a fleet of buses. From a 22 seater coaster and rosa buses for hire, 33 seater, 44 seater, and 50 Seater buses for hire. In Short, no matter how many people you have, we will take care of it. so, we not only have a Toyota Wish for hire Nairobi Kenya but other cars that you have seen above.
For Bookings,
Call/WHATSAPP/SMS: 0712004003 //0754 004 003// 0743142615
EMAIL: Info@bammtours.co.ke