Toyota Hilux for hire in Kenya.
Are you looking online for a reliable tour company where you can get a nice Toyota Hilux for hire in Kenya? Well, look no further since you've just landed at the right place, at the right time. Simply pick up your phone and hit our dials; 0712004003/ 0754004003 / 0743142615. And, we will be happy to help!
Out of all the vehicles that Toyota has ever produced, Toyota Hilux for hire Kenya remains to be the best and most preferred vehicle for project management in Kenya. Bamm Tours understands this with the greatest keenness and that is why we focus on hiring the double cab for you. Of course, we also have other vehicles for hire.
Double Cab for Hire in Kenya.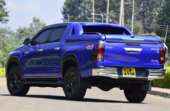 It does not really matter where your next project is. Our team is able to organize a Toyota Hilux Double Cab for hire in any part of Kenya. Definitely, our main office is based in Nairobi. But what I mean is, You hire it here, use it there! So, you are not limited in terms of using it in other parts of Kenya. Recently, we've recorded a rise in demand for this particular type of vehicle. Nevertheless, Bamm tours is here for you, to give you any type of car rental in Nairobi that you could be looking for. In fact, we have been rated as the best car hire company in Nairobi Kenya! So, when you are dealing with us, please know that you are dealing with the best that there is in the whole Kenya region. Welcome.
Toyota Hilux Double Cab for hire.
This vehicle, as I had earlier discussed, is primarily used by young engineers who need to get going. Apart from Toyota Hilux Double Cab for hire, we also have in stock other types of cars available for hire. Other customers prefer to hire Toyota Land Cruiser or a Tour Van since both models are 4by4 Wheel-drive cars for hire. Others prefer Mini Suvs or mid-size for example Nissan Xtrail, Toyota Rav4, or Vanguard. A small number opt for a Toyota Prado For Hire. They are all in stock awaiting for your hire to hire them out. Contact us today to get our quotation. In addition, we have other types of double cabs for hire such as Isuzu Dmax, Mitsubishi, Ford Ranger, Vigo, among others.
Car Hire with Driver Nairobi.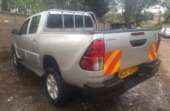 If there is a safe mode of hiring vehicles in Nairobi, it is a car hire with a driver. More so, if you are hiring a Toyota Hilux. Though we hire it as a self-drive, we encourage Chauffeured. We only consider Self Drive when it is a long-term car rental contract. There are many advantages of car hire with a driver in Nairobi. We have discussed this in our other articles herein. Of course, we also have similar services in major towns in Kenya such as; Car hire with a driver in Mombasa, Car hires with a driver in Eldoret, Car hire with a driver in Nakuru, and finally in Kisumu.
4by4 Car Hire Kenya Nairobi.
Nairobi, in general, has many operators rendering 4by4 wheel drive car hire services in Kenya. Our Company Bamm Tours remains the best to hire vehicles from. Our aim is to make sure everyone travels across the East Africa region; comfortably, conveniently, safely, and affordably. One of the best examples alongside the double cabin for hire is a Toyota Prado for hire in Kenya. Secondly, a Toyota Land cruiser V8. Thirdly, our safari vans are for hire in Nairobi Kenya.
Self-drive Car Hire.
The business of Self-drive car hire services in Nairobi is coupled with many challenges that operators have been unable to counter. it remains a big challenge in many African countries due to security concerns, mostly carjackings. Car hire with a driver or Chauffeur is highly recommended. However, should your organization require self-drive services, we can consider that so long as it's a long-term contract payable upfront on monthly basis.
Online Car Hire.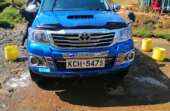 In as much as Car hire companies have websites, there has never been a fully functional online car hire. This is due to the fact that customers need to first see, test, and verify the car before making any payments. Contrary to that, we have Toyota Hilux Double Cab for hire and you can book online. We will deliver the vehicle to you for tests and contract agreements before making my payments or commitments. However, we are slowly getting there soon. We will soon have a fully operational website or an App that can allow you to rent or hire any type of vehicle in Nairobi efficiently and effectively. Bamm tours will be one of those car rental companies. We believe!
To Book Toyota Hilux For Hire Kenya, click here or
For Bookings and Inquiries,

CALL/ SMS/ WHATSAPP:

+254 712 004 003 /0754 004 003/ 0743 14 26 15
EMAIL: info@bammtours.co.ke
www.bammtours.co.ke

Or, visit our offices; a few meters from AAR Hospital, Ridgeways, Kiambu Road.