Double Cab for Hire in Kenya.
Are you looking online for a reliable tour company where you can get a nice Double Cab for hire in Kenya? Well, look no further since you've just landed at the right place, at the right time. Simply pick up your phone and hit our dials; 0712004003/ 0754004003 / 0743142615. And, we will be happy to help!
Undoubtedly, the Toyota Hilux has been one of the best cars to hire as a double cab for several good reasons in Kenya. Bamm Tours and safaris have been one of the best Double Cable car for hire providers for quite some time now. Similarly, young and emerging engineers seem to prefer Double cabs over even the Toyota Prado for hire in Kenya. One of the major reasons is that the Pickup is a four-wheel-drive or 4×4 vehicle and has pickup functions as well.
Toyota Hilux Double Cab for Hire.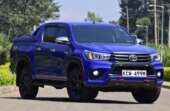 There are several models of double cab for hire in Kenya but one of the very best is the Toyota Hilux. It stands out from the crowd of many types of Double cabs like; Nissan, Mitsubishi, and Isuzu among others. Masses prefer it because of its easier maintenance and of course its toughness on the road. Kenyans take pride in driving Toyota Cars hence, Toyota Hilux Double ends up joining the list as well.
Car Hire with Driver Nairobi.
Hopefully, you have followed our other blogs here, and you have noticed that we, as Bamm Tours, Offer chauffeur-driven vehicles for hire. Quite a number of our customers enjoy our services because of the many benefits and freedom the option offers. As a client, you are not responsible for any collision or damage to the car when you hire the car with our driver. All our Double cabs for hire are offered with a driver or a chauffeur.
Of course, our services are available in the major towns of Kenya. For example, Car hire with a driver in Mombasa, Nakuru, and Eldoret. In many instances, chauffeured services are best for services such as Aiport transfers in Nairobi, Mombasa, and Eldoret. Similarly, Vans and Buses, as well as tour vehicles, are hired with a driver or tour guide!
4by4 Wheel- Drive Car Hire in Kenya Nairobi.
Our company remains the best to source any 4by4 Car hire from in Kenya. We have the best range of cars for hire which are four-wheel-drive. For example, We have Toyota Prado for hire, Land Cruiser Van For Hire, Tour Van for Hire, and also our Mini Suvs for hire such as; Toyota Rav4, and Toyota Vanguard for Hire, Toyota Harrier for hire, and Nissan Xtrail. Feel free to check any of our vehicles.
Self-Drive Car Hire.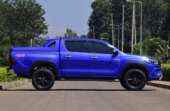 The option of hiring cars for self-drives remains with many challenges today in Nairobi. Security has been one of the major concerns. However, When corporates require Self-drive car hire in Kenya, we are glad to offer it under our laid down company policies. We prefer long-term car hire whenever it is a self-drive option. Needless to say, We offer Double Cab For-hire Kenya as a self-drive to Major companies and as a long-term contract. The contract involves upfront or advances payment on a monthly basis.
Online Car Hire.
Technology changes have recently enabled the car hire business today to be online too. You can easily hire Double Cab through our online platform. Additionally, should you encounter any challenges whatsoever, please let us know. Many people nowadays have appreciated our Online Car Hire when hiring our Double Cabs. Though Many prefer calling and paying us a visit to the office for both signing the contract and viewing the car for hire. The process involves, first of all, identifying the type of car you need. Secondly, while you visit our website, you will get to see our charges. Luckily, you can indicate your preferred budget. When we receive your request, our dedicated team of staff will get back to you soonest. Once satisfied, you will go ahead with checking out. You will be asked for your preferred payment option. Once that is done, and we receive your deposit, we will deliver a vehicle to your doorstep as you make the final payments. As simple as that.
Hiring a Driver in Kenya.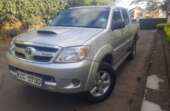 As a tourist, you may prefer the freedom of hiring our driver in Kenya together with our Double cab. This is the most preferred option since it covers the hirer against all the risks of hiring a car as a self-drive. Get in touch whenever you need to hire a driver in Kenya. Obviously, all our drivers are highly trained in defensive driving. Being their major source of income, it is, therefore, their main profession. Hire a driver today at only KES2000 or 20$ within Nairobi.
How Much Does it Cost to Hire a Double Cab?
Technically, there's no day that ends without being asked this question; How much does it cost to hire a certain car? So, from as little as KES12,000/- or 120$ per day you can get yourself or your company a very nice Double Cab for hire Kenya today. The cost, however, includes the services of a professional driver. It excludes any Fuel whatsoever.
To Hire Toyota Hilux Double Cab, Click Here
For Bookings and Inquiries,
Call/ WhatsApp/ SMS:

0712004003 /0754 004 003// 0743142615


Email:

 info@bammtours.co.ke
Or, visit our offices; a few meters from AAR Hospital, Ridgeways, Kiambu Road.