Safari Land Cruiser for Hire Nairobi Kenya.
Are you looking online for a nice Safari Land Cruiser for hire in Kenya? You've just landed at the right place. So, simply pick up you phone and hit our dials; 0712004003 / 0754004003 / 0743142615. And, we will be glad to serve you!
In fact, always experience Kenya with Bamm Tours while using the Toyota Safari Land cruiser for Hire Kenya! Since it is fitted with a manual transmission, it's the ideal vehicle to handle the rough 4×4 Wheel Drive tracks while in transit to those notorious Outback areas.
Sometimes, about five individuals can be obliged, yet for more space. So, we suggest accepting this vehicle as a gathering of 7 to 8.  The 2020 undercarriage safari land cruiser for Hire Nairobi Kenya is fitted with powerful hardware, a snorkel.
4by4 car hire Kenya Nairobi.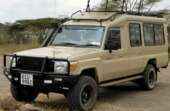 From time to time, a need arises to visit areas with bad roads. Therefore, that's when you can consider hiring a Safari Land Cruiser. To make sure you don't get stuck, you engage the 4 by 4-wheel drive. The Toyota Land Cruiser Safari Van is created for such. Actually, our Kenyan bodybuilders have modified the model and made it more powerful, with higher ground clearance, and extra space to take in more passengers. So, when a Land Cruiser is imported from Japan, it lands as a pick-up. Of course, we all know that a pick-up will not help us do much with it. As a result, that's why they get customized safari vans to be used as a Tour Van.
Tour Van for Hire Nairobi.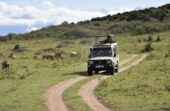 The Toyota Safari Land Cruiser is mostly used as a tour van to visit Kenya's game parks and National parks in the country. Recently, it has since become the most sought-after safari vehicle hire in Kenya. Obviously, this is what it was made for, after all.
Definitely, the tour experience this vehicle gives you is beyond what we can explain here. You never go wrong hiring this 4by4 safari van. As a tour van, it means it has to be driven by a tour guide who has a piece of the vast knowledge of Flora and Fauna of this country. So, you get to experience much more than just hiring a safari van. In short, you get guided throughout your journey. That is needless to say, that we hire them out as a chauffeured vehicle for hire than self-drive car hire.
Self-drive 4×4 car hires Kenya.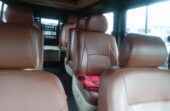 Kenya is yet to develop a smooth option for a self-drive 4×4 car hire mainly for security reasons. As a person visiting Kenya for the first time, you would not even opt to hire it as a self-drive. You basically need a tour guide to take with you. who knows and understands African terrain better than you? Should you need one Kindly talk to us. We work hand in hand with other 4by4 hire operators like Prado for Hire Kenya. Mostly, the vehicles available on self drives as Four wheel drives include; Mini SUVs such as Toyota Rav4 or Vanguard for hire, Full size 4×4 SUVs cars for hire are mostly the Toyota Prado Tx 150 for hire in Kenya.
Toyota Landcruisers for hire in Kenya.
Generally, our main office location is based in Nairobi like many other operators. However, We are not limited by this location. We can hire out the cars to any part of the country as you may wish. For instance, we have safari vans for hire in Mombasa, Tour vehicles for hire in Nakuru county, as well as tourist vans for hire in Eldoret Kenya.
Always get in touch with us and let us know where you would like to visit. Fill up this form for us and we will get back to you in minutes.
To Book Here Toyota Land Cruiser for hire Nairobi Kenya:
Call/ Whatsapp/ Sms:

0712004003 //0754 004 003// +254 743 142 615
Or, visit our offices; a few meters from AAR Hospital, Ridgeways, Kiambu Road.