Tour Van For Hire Kenya.
Think of the tour van for hire Kenya as the bold and the beautiful. Well, the juxtaposition comes with the throwback show from the 90's. But the true Toyota tour van is great for the African Safaris tour. And Bamm Tours and Safaris got it! So the question still remains why should you source a tour van for hire Kenya from Bamm Tours and Safaris? We have prepared this post to share the truths that come with hiring one from us! You get to enjoy the following when you hire a tour van from Bamm Tours and Safaris Limited;
First, Comfort
Secondly, Professionalism
Thirdly, Convenience
Fourthly, Great customer service
Comfort.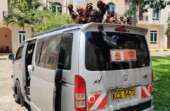 What is better during a tour than comfort and magnificent beauty to behold? Well, comfort is at the back of every person's mind when planning a tour. That's why we give it much prominence as our other factors when hiring out tour van for hire Kenya. There is no doubt that we offer the most comfortable vehicles on this side of the Sahara. Our tour vans come with the state of the art defined, secure comfortability. The best way to begin your journey with us. Normally, the tour van Kenya carries 7 to 8 passengers. Of course, that means that they travel in comfort and luxuriously. However, should you have a bigger group that you need to be transported to, we have available 11 and 14-seater vans for hire.
Professionalism.
Obviously, when professionalism lacks in hiring tour van for hire Kenya people get irritated.  As a result, we have put measures in place to ensure the process is professionally smooth. That's a promise we make to all our clients. Additionally, since we practice only chauffeured car hire services, or car hire with a driver in Nairobi, Mombasa, Nakuru, and Eldoret, you are assured of professional services.
Convenience.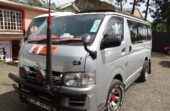 The convenience is experienced when you wish to get the best when hiring a tour van for hire Kenya. When you have experienced the most painful method of acquiring a tour vehicle you wish to find the best solution. With Bamm tours, your process will be convenient enough to make you come back again!
Great customer service.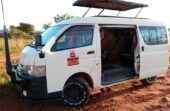 Needless to say, every client is searching for a way they can feel someone cares. That's just how it is with Bamm Tours and Safaris, we offer the best customer services at affordable prices. There is not much to write about this process since we are settled with what we wish to offer our clients. Quality services at an affordable price. Actually, if you are looking for the best car hire company that has better reviews, you are at the right place. Our customer service is top-notch.
Tour Bus For Hire in Kenya.
Similarly, you can get tour buses for hire alongside the tour van Kenya for hire. In most cases, the tour bus in question is either a Toyota Coaster bus for hire or a 22-seater Rosa bus for hire. Actually, they are also referred to as Shuttle buses for hire. Of course, we have them available in Nairobi, and other parts of the country such as; Buses for hire in Mombasa, Nakuru buses for hire, and Eldoret bus for hire. so, I don't need to state here exactly why you need a 25-seater Rosa bus in Kenya, do I?
You can easily hire a vehicle from us at affordable prices! You can easily reach us through our phone number
+254 712 004 003

/0754 004 003/

0743-142-615
Or, visit our offices; a few meters from AAR Hospital, Ridgeways, Kiambu Road.