11 Seater Van Hire Kenya.
When you are in need of a vehicle that will transport about 11 tourists around the country then you can hire the 11 seater van Kenya. You are at an advantage when you get the 11 seater van hire Kenya from Bamm Tours and Safaris. This is a dedicated company in the tours, travel, and best car rental industry! Simply get in touch with us now by calling, SMS/ WhatsApp: 0712004003/ 0754004003/ 0743142615. We will be glad to help you.
Vans for Hire in Kenya.
The vehicle comes in handy when you want to have a cheaper option than the Safari land cruiser in Kenya. The vehicle comparably delivers to other Toyota vehicles we hire out and you are lucky to get one from us. It is said that the engine performance is at almost equal levels of the Toyota Prado. The latter is also among the vehicles we hire out. There are a great number of reasons why you need to get the car from us including the services we offer.
Family Car Hire.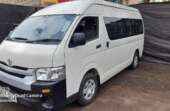 The 11 seater van hire Kenya comes loaded with comfort and space for intimate conversation. If you are a group of friends, colleagues, or family you are close together as you travel the world. In fact, the journey with our driver means that you feel like family more. Our drivers/tour guides are well trained in communication and customer services.
Of course, they are allowed to create a good rapport with the tourists which means that you will end up making new friends, which is a better achievement than leaving the place unhappy and unsatisfied. When you rent the 11 seater van hire Kenya, you get the best of both worlds. You experience tours as you've never done before!
14 seater van for hire in Nairobi.
Whenever we talk about 11 Seater tour van for hire we basically mean  14 seater van for hire. The reason is that, after the tour vans which carries about 7 passengers, the next Van we have is a 14 seater van Kenya. Actually, you will end up realizing that we mostly use a 14-seater van for hire than 11-seater vans. This is because the 14-seater matatus are more spacious and comfortable. Of course, we have 10-seater vans in Nairobi as well as in Mombasa. Before I forget, the vans that we are talking about here, are normally the Toyota Hiace vans.
14 seater car hire Nairobi.
Bamm Tours is the best company to hire any chauffeur-driven vehicle in Nairobi Kenya. 11 seater van for hire tops the list since our vans are the latest model. Secondly, our drivers are professionals and highly experienced. Last but not least, We offer free drinking water from Ubuntu, as an add-on.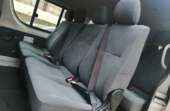 Bamm tours is a great tour company and we'd love for you to enjoy the best at all times.
Buses For Hire In Kenya.
Generally, we have available buses for hire throughout the main towns of Kenya. For instance, Buses for hire in Nairobi, Buses for hire in Nakuru, Buses for Eldoret, as well as in Kisumu city. So, whenever your group of travelers exceeds 14 passengers, we recommend that you hire a bus.
Safari Van For Hire in Kenya.
Additionally, we have several types of safari or Tour vans for hire in the country alongside commuter vans. Safari vans are mostly used to visit various National parks such as Masai Mara, Tsavo, Samburu, and other Arid and Semi-Arid areas. Since they are 4×4 wheel drive vehicles, it means that they can trespass where a normal van would struggle. Luckily, we have Safari vans spread across Kenya. For example, we have safari vans in Nairobi, Safari vans for rent in Mombasa, and Safari vans for rental in Nakuru, Eldoret, and Kisumu.
You can easily hire a vehicle from us at affordable prices!
You can easily reach us through our phone number
+254 712 004 003

//0754 004 003//

0743-142-615
[maxbutton id="1″ url="https://bammtours.co.ke/product/14-seater-private-van/" ]