Nairobi National Park Tour Van Hire.
Are you looking for a Nairobi Park Tour Van for hire? Well, look no further now because, with Bamm Tours, you are at the right place for it. In case, you are visiting the country for the first time, and want to take advantage of your free time, book the Best Nairobi National Park Safari Tour! Hit our dial 0712004003 //0754 004 003// 0743142615 now. Email us at Info@bammtours.co.ke. and we will hook you up with a nice, comfortable and affordable Tour van for hire in Nairobi Kenya.
Safari Van Rental Charges.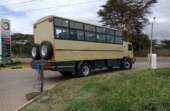 Most definitely, I know this is the first question that you need to be answered quickly. So, I will dive directly into telling you the Nairobi National Park Tour Van Charges in the year 2023.
The cost of hiring an 8-seater Toyota Hiace Tour Van to Nairobi National Park is $180. In the meanwhile, The price of renting a 7-seater Toyota Land Cruiser Safari Van is $250. Currently, the price keeps on going higher with the recent increase in the cost of living. Therefore, it is advisable to always look out for the current price before making the booking.
First, you need to understand that we have 3 types of tourist vans for rent. For example, the Toyota Hiace is popularly referred to as the Tour Van. Secondly, the Toyota Land Cruiser safari Van. Thirdly, the Overland truck. Luckily, we have all of them available in our garage.
Van Hire Services for Nairobi National Park Excursion.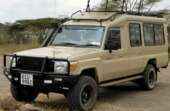 Surprisingly, many people don't know that it pays to hire a Nairobi park tour van, then either hire an ordinary taxi or Uber.
Of course, renting a Van for the Nairobi Wildlife Sanctuary Visit has many advantages over other types of cars. For example, the pop-up roof ensures that you get a bird's view of the wildlife hence better photography. Secondly, it comes with an experienced tour guide, who becomes a great resource for driving and spotting the animals inside the park. Thirdly, the Park is a 4by4, meaning that you will rarely get stuck in the wild, whether during a rainy season or dry season.
Conclusively, we can all agree that you need a Tour van while doing a Nairobi National Park tour or any other park. such as Masai Mara, Amboseli, Tsavo, Nakuru, among others
Vehicle Rental for Nairobi Wildlife Park Tour.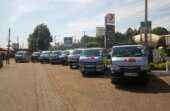 Basically, there are myriad Tour Vans for hire, for you to go and experience Nairobi National Park wildlife reserve. Apparently, you can even hire our Toyota Prados, and Toyota V8 too. What's more, even if your group is bigger than 7 passengers, we can either use a Coaster Bus or an Overland Truck for hire.
Also, depending on the number of tourists that your group has, you can choose to rent our Buses. For instance, our 33 seater buses, 44 seater buses, and lastly our 51 seater buses for hire in Nairobi. Please note that the Nairobi National Park animal wildlife reserve is motorable. Hence, as long as you hire a car with a driver, you can get a salon car, a crossover or even our MPV vans.
Finally, with us, you never go wrong as we have all types of cars you would ever need for your tour or safari, in Nairobi National Park sightseeing excursions.
Half-day Tour Packages Nairobi.
Similarly, we understand that you may not have the full luxury of time. Thus, your time may be limited. So, instead of renting a Tour van for the entire day, we can tailor-make it to fit your schedule. In other words, you can hire our Tourist vans for half a day. This option accommodates tourists or travellers who have limited time.
For example, those people with a layover.  We can pick you up from JKIA and take you for a game drive, Elephant Orphanage and later drop you back at the airport.
Game Drive Vans for Hire in Kenya.
Basically, Bamm Tours is your best car hire company to get your Game Drive Vans for hire, at any time of the year. See, our game drive vans for hire are clean, new, and modern. Secondly, we follow a strict car maintenance procedure to ensure that you don't develop mechanical issues while exploring the Nairobi animal reserve. Again, our rates are affordable. This is the only place where you can get cheap game drive vans for hire in Kenya!
Actually, we not only have the game drive vans in Nairobi but also in other places in Kenya. For example, Game drive vans for hire in Nakuru, Game drive vans for hire in Nanyuki, Game drive vans for hire in Eldoret, Game drive vans for hire in Kisumu, and Game drive vans for hire in Mombasa.
For Bookings,
CALL/SMS/WHATSAPP:
0712004003 //0754 004 003// 0743142615
EMAIL:
Info@bammtours.co.ke
Or, visit our Offices:
Nairobi / Main office: A few meters from AAR Hospital, Ridgeways, Kiambu Road. Carman Showroom, Ground Floor, Office number 5.
JKIA Office: Terminal 2, Kairi Tours next to Avis Car rental.
Mombasa Office: Epic Business Park, Office A33, 3rd Floor Links Rd, Mombasa.
Eldoret Office: Eldo Centre Mall, Office Number 027, Ground, Eldoret.
Nanyuki Office: Oddesey House, Office Number 1, Laikipia Road directly opposite the main entrance of Cedar Mall., Nanyuki.
Nakuru Office: Kang'ei & Nyakinyua Building, Kenyatta Avenue, Opposite Nyayo Gardens, First floor Room 9