Tour Van Hire Kenya
Are looking online for the Best car hire company to rent a Tour Van to take you to either Masai Mara, Amboseli, Samburu, or any other part of the country in Kenya? Well, your search needs to end here and now! Because you have just landed on the exact place for that! We understand all our customer needs first, so as to be able to establish which vehicle conveniently suits them. We listen to you first and then advise, give you time to consider our suggestion, and finally book a vehicle for you! Come talk to us now and you will never regret calling and dealing with us. CALL/SMS/ WHATSAPP: 0743142615 /or/ 0712004003. We will be glad to serve you!
Safari Vans For Hire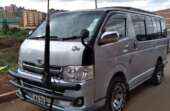 Our Tourist Safari Tour Van for hire is the cleanest, most Modern, most Comfortable, and in sound working mechanical conditions. Of course, this becomes one of the reasons why we are the most sought-after company in town. Why don`t you try us today? Safari Tour Van for hire is mostly suitable for the sightseeing of the wildlife in our Kenyan Game Parks. As a matter of fact, that is why all the Tourist Tour vans for hire have a Pop-Up roof. This makes the car very unique and special since it enables easy Photography. The photographer is able to stand upright while inside the tour van for hire and record his videos in 360 Degrees. We highly recommend this type of vehicle for people looking for photography vehicles or traveling as a group of eight and below.
Safari Tour van for hire is also used by the Kenyans to go for Fun trips, Road trips, Tembea Kenya experience, and Cultural events. Tourist Tour van for hire becomes very comfortable since they have reclining seats with a safety belt to maximize your comfort while on a safari with the best tour company in Kenya.
Hire a Car with a Driver in Nairobi
Our Most Experienced Tour Guides or Drivers make hiring this Tour van a very exciting moment for you and your loved ones. For Spotting wildlife in the park, the vehicle is fitted with VHF Radio that makes our guides communicate with other guides while searching for the cats in the wild. Our Guides are Fun and professional. This ensures that you will get value for your money.
Toyota Land Cruiser For Hire Kenya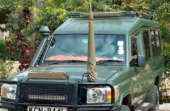 The tour van for hire Kenya is a great vehicle to help you get through the African safaris. The only vehicle that compares to it is the land cruiser for hire in Kenya. We also offer latter-for-hire tour guides or a group that wishes to go on a tour in Kenya. The tour van is well adapted for the African market, especially the partially done infrastructures.
14-seater Matatu for hire Kenya
You can easily see the resilience of the tour van for hire by observing their performance on long-distance travels in the public sector commonly referred to as matatus. These vehicles,11, 12, 13, or, 14-seater vans for hire in Kenya, are typically advertised as shuttles meaning they are a cut above the rest of the pack. In addition to the engine within the tour van for hire Kenya, our vehicles offer comfort and a few added luxuries. Therefore, you got all the reasons to hire one of our tour van for hire Nairobi Kenya.
Best Car Hire Company in Kenya.
On one of your travels, you will behold the sun fading as you marvel at the natural beauty presented through the African safaris. The tour van for hire Kenya is a worthy carrier of the yearning soul. Bamm Tours and Safaris Limited is ready to offer the best in tour vans hire for that soul to enjoy themselves.
4by4 Wheel Drive Car Hire Nairobi.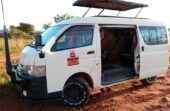 In our collection, we got quite a number of vehicles that you can trust to tour Kenya and the greater East African safari scene. Just like the land cruiser the tour vans for hire Kenya comes from the same company, Toyota. The company has created machines that can rumble through the Kenyan terrain. That said, we understand that the tour van got a lot of stories to share as well.
Tour Vehicles For Hire.
The stories of finding beauty magnificent and food for the soul. The best tour vehicles in the market currently are the Toyota land cruiser Safari Van for hire Kenya and Tour van for hire Kenya. The great thing is that we offer the two vehicles for hire. You will get pleasurable journeys with comfort reloaded with a tour van for hire in Nairobi Kenya. We also Book hotels or lodges for our customers, so talk to us now and let us take that worry from your mind once and for all.
Think of the tour van for hire Kenya as the bold and the beautiful. Well, the juxtaposition comes with the throwback show from the '90s. But the true Toyota Hiace tour van is great for the African Safaris tour. And Bamm Tours and Safaris got it! So the question still remains why should you hire a tour van to hire Kenya by Bamm Tours and Safaris? We have prepared this post to share the truths that come with hiring one from us! You get to enjoy the following when you hire a tour van from Bamm Tours and Safaris Limited;
Comfort
Professionalism
Convenience
Great customer service
Comfort
What is better during a tour than comfort and magnificent beauty to behold? Well, comfort is at the back of every person's mind when planning a tour. That's why we give it much prominence as our other factors when hiring out tour van for hire Kenya. There is no doubt that we offer the most comfortable vehicles on this side of the Sahara. Our tour vans come with the state of the art defined, secure comfortability. The best way to begin your journey with us.
Professionalism
Obviously, when professionalism lacks in hiring tour van for hire Kenya people get irritated. We have put measures in place to ensure the process is professionally smooth. That's a promise we make to all our clients.
Convenience
The convenience is experienced when you wish to get the best when hiring a tour van for hire Kenya. When you have experienced the most painful method of acquiring a tour vehicle you wish to find the best solution. With Bamm tours, your process will be convenient enough to make you come back again!
Great customer service
Needless to say, every client is searching for a way they can feel someone cares. That's just how it is with Bamm Tours and Safaris, we offer the best customer services at affordable prices. There is not much to write about this process since we are settled with what we wish to offer our clients. Quality services at an affordable price.   We are simply the Best Tour and car hire Company in Kenya to hire out Tourist Safari tour Vans for hire. Try us today! We are just a phone call away.
For Bookings and Inquiries,
CALL/ SMS/ WHATSAPP: +254 712 004 003 /0754 004 003/ 0743 14 26 15
EMAIL: info@bammtours.co.ke
www.bammtours.co.ke
Or, visit our Offices:
Nairobi / Main office: a few meters from AAR Hospital, Ridgeways, Kiambu Road. Carman Showroom, Ground Floor, Office number 5.
JKIA Office: Terminal 2, Kairi Tours next to Avis Car rental.
Mombasa Office: Epic Business Park, Office A33, 3rd Floor Links Rd, Mombasa.
Eldoret Office: Eldo Centre Mall, Office Number 027, Ground, Eldoret.
Nanyuki Office: Oddesey House, Office Number 1, Laikipia Road direct opposite the main entrance of Cedar Mall., Nanyuki.
Nakuru Office: Kang'ei & Nyakinyua Building, Kenyatta Avenue, Opposite Nyayo Gardens, First floor Room 9
Differences between using a land cruiser and tour van hire Kenya