7 Seater Van For Hire Nairobi.
Are you planning for a road trip with the squad, friends, or buddies this Year? Have you gotten yet a trusted company for your transport solutions yet? Do you want to just be driven to multiple scenic destinations in Kenya without having to worry about who is driving you? Relax, Let us take that worry out of your mind! We are here to help you!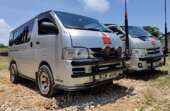 Now, Pack your bags, set your playlists, and travel in style with Bamm Tours 7 seater Van for hire? Our 7 seater vans are modern, new, and clean you wouldn't resist a ride in them. Our drivers are all well-trained and experienced professionals.
So, simply pick up your phone and hit our dials; 0712004003 / 0754004003/ 0743142615. And, we will be glad to serve you accordingly.
7 seater car hire Nairobi.
There are many options of  7 seater vans that are available for hire in Nairobi. First, we have in stock either a Toyota Noah for hire Nairobi or Voxy For hire Nairobi. Secondly, all the tour vans include; the Toyota Hiace Tour van for hire in Nairobi and Toyota Land Cruiser safari vans for hire in Nairobi. Finally, the third category is Toyota Alphard For hire in Nairobi and or a Toyota Vellfire for hire in Nairobi. 
The process of hiring either of the Bamm Tours vans is the same. From the time a customer calls, gives out full information about his or her travel itinerary. in addition, the client agrees on the price and sends a deposit for the vehicle reservation. Finally, the 7-seater van for hire appears with a driver at the customers' residence. as simple as that!

14 Seater Car Hire Nairobi.
At times, the group of people traveling in a 7 seater may double. If they still want to travel in one van, Bamm Tours recommends the use of our 14-seater vans for hire in Nairobi. Of course, we also have 14 seater vans for hire in Mombasa county as well.
Prado Tx for hire Nairobi.
Who doesn't know that our Prados for hire has 7 seats? well, if you didn't know, now you are more educated! When looking out for a 7 seater van for hire, you can also opt to hire it as a 4X4 Wheel-drive car. Bamm tours work hand in hand with Pradoforhire.co.ke for its surplus Prados car rental needs. Similarly, we have Toyota Prados available for hire with drivers across Kenya. For example, in Mombasa, Nakuru, Eldoret, and Kisumu

Noah for hire Nairobi.
Many people often fall for the fact that 7 seater vans are only Toyota Noah or Voxy. That is not true! But since it is the most preferred, we have it in stock. This vehicle is suitable for families, colleagues, and even general friends. Interestingly, we have it across Kenya. For instance, we have Toyota Noah for hire in Mombasa, and Toyota Noah for hire in Nakuru. Thirdly, we have available Toyota Noah for hire in Eldoret town. Obviously, all our Noah or Voxy car hires are available only with a driver.


Kenya cheap car hire Nairobi.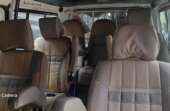 Car hire in Nairobi and Kenya, in general, is cheaper when compared to owning a motor vehicle. This model is suitable for corporates setting up their offices in Kenya. The Hirer takes care of the car while the Hiree concentrates on his major goal and work activities. The best option is always available car hire with a driver. Seemingly, the rental period is usually on a long-term contract basis. which is payable on a monthly upfront basis.
Call, Whatsapp, SMS:
0712 004 003 //0754 004 003// 0743-142-615
EMAIL: info@bammtours.co.ke
Or, visit our offices; a few meters from AAR Hospital, Ridgeways, Kiambu Road.
Tour van for hire Kenya
Safari Van hire Kenya
14 Seater Van Hire
Why get a Toyota Noah for hire Kenya from Bamm Tours?
14 Seater Van For Hire