Toyota Alphard For Hire Nairobi Kenya.
Are you looking for a Toyota Vellfire or an Alphard for hire Kenya online? Well, Bamm Tours and Safaris is the right place. Simply Call/ SMS/ Whatsapp: 0712004003 /0754 004 003/0743142615, and we will be glad to serve you!
Of course, We have a number of them. This means that we can handle your request for these types of vehicles anytime and any day of the week. These types of vehicles are spacious and quite comfortable for travel. Nowadays, we also offer them self-drive options but only chauffeur-driven which depends on the clients' requests. Our client is diverse and multinational. Also, our clientele is composed of corporate and individual customers. Therefore, we are able to satisfy the need.
Why Hire Toyota Alphard from us?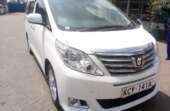 Our reliability has seen us hire out our vehicles to some of the most remote areas of the countries. In such a case we hired out our Toyota Land cruisers (typically used during tours around Kenya's world-famous national parks). The Toyota Alphard for hire Kenya is a great vehicle when you need to attend official functions with friends and family or with your company.
One thing that makes hiring Toyota Alphard and Vellfire from Bamm Tours is that this car has Conference seats, Meaning, that when corporate clients hire this Chauffeur driven vehicle, they are able to hold meetings while on the way to their destination!
Alphard For Hire Nairobi Kenya.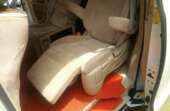 Let your travel be enjoyable, comfortable, and reliably with Toyota Alphard for hire Kenya. Our services are top-notch and certified by the hundreds of customers who have hired the Toyota Velfire through us. The process of hiring Toyota Alphard for hire Kenya is very simple. All you have to decide the date for your hire then give us a call. We will confirm its availability and revert back to you. If our Toyota Alphard for hire is not all hired we will set one ready for your travel day. However, it's good to note that you need to pay a prescribed amount as a deposit during booking. Then you will pay the remaining amount on the day you pick the Toyota Velfire for hire Kenya. From there you can enjoy your ride with family, friends or colleagues.
What are you waiting for? Book for your Toyota Alphard or Velfire Nairobi Kenya Now!
Toyota Vellfire For Rental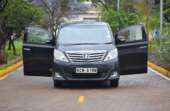 So, When looking for a premium vehicle with room for everyone, a seven-seater Toyota Vellfire for rental from Bamm Tours might be right for you.
With additional seating that usually folds down, the seven-seater Toyota Alphard for hire is perfect for families, large groups, people with additional luggage, or people who simply enjoy the extra space on long drives.
7 Seater Vans for hire.
Alongside the Alphards, we also stock a couple of other 7 seater vans like the Toyota Voxy or Noah for hire. We can also organize for you a Toyota Prado for hire from our sister company or if your number of passengers is more than 7, we can do a 14-seater Private Van. However, if you still more we can give you a bus. Either 22, 33, 44, or 50 Seater bus for hire. Additionally, we also have both the tour van, Toyota Hiace for hire, and Toyota Land cruiser safari van for hire. The latter is a perfect fit for doing game drives in our popular game and national reserves.
Wedding Cars For Hire in Nairobi Kenya.
Apparently, Toyota Alphard for hire and Toyota Vellfire for rent, both have an equal need when it comes to wedding cars for hire needs. Of course, it fits very well the bridal team, and therefore, it's highly considered for carrying the bride maids during many weddings in Nairobi. Perhaps you can opt for it too during your own wedding day, What do you think?
Toyota Rav4 For Hire in Nairobi Kenya.
Also in stock in conjunction with Toyota Alphard for hire Nairobi, is a Toyota Rav4 for hire. Typically, this vehicle combines several factors that in the end make it the most preferred type of car for hire. For instance, it's a good bargain for those customers who take vehicles on a monthly basis for a Toyota Prado. Since the price is half, they are able to hire it on a long-term basis. Secondly, we have it on both Chauffered and self-drive basis. Thirdly, it combines both the salon car and 4×4 functionalities, and meets them effectively!
Nairobi Airport Transfer Services.
Another most common use of a Toyota Alphard for hire is Nairobi airport transfer services. This is so mostly because the car is executive, has enough space which goes hand in hand with how we provide those services, professionally.  Whenever you have delegates or visitors who would prefer executive, VIP, or luxury transportation services in Nairobi, Then this is the vehicle to rent. Normally, we have the vehicle arrive at international arrivals and wait for fo your guests.
Alphard for Hire in Mombasa Kenya.
Similarly, we have got units available in Mombasa. So, next time you are in Mombasa and in need of a Toyota Vellfire or an Alphard, simply get in touch with us.
Secondly, we provide a few incentives such as free mineral drinking water, mouth refreshing sweets, saviets or tissues, and umbrellas in case it rains.
At times, we organize for guests to be picked up directly from the immigration desk in JKIA or Moi International Airports. Of course, this is at an extra charge. Finally, because we are now in Covid 19 era, our vehicles are perfectly sanitized and fumigated against the virus. Whatsmore, we have hand sanitizers inside the car for your use. So, next time you're in need of an Alphard for rent, feel free to get it from us. You would have made the right choice. Welcome on board.
Price to hire a Toyota Alphard in Nairobi:
KES. 10,000 per day
*Inclusive of a professional driver
For bookings and inquiries,
Call/ SMS/ Whatsapp:
+254 712 004 003

//0754 004 003//

0743 142 615
Or, visit our offices; a few meters from AAR Hospital, Ridgeways, Kiambu Road.
Book Online Here
[maxbutton id="1″ url="https://bammtours.co.ke/product/toyota-alphard/" ]