VANGUARD FOR HIRE KENYA
Are you looking online for a reliable Car hire company in Nairobi for a Toyota Vanguard for hire? Well, look no further than here. Simply hit our dials, 0712004003 /0754 004 003/0743142615 now. We will be glad to serve you!
A car that moves masses in the right motion is definitely worth trying. This vehicle is no other than the Toyota vanguard for hire Kenya. It is an elegantly shaped vehicle with high performance on passenger carriage and speed. There are a number of reasons that anybody would want to get it from Bamm tours including; comfortability, great performance, and the zeal to offer the best. We as Bamm tours offer Mini SUVs and other vehicles to all clients in need.
Toyota Rav4 For Hire Nairobi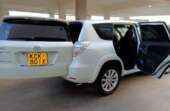 The Vanguard has a striking resemblance to the Toyota Rav 4 but differs in a number of ways. The Toyota-built vehicles are always fun to own and drive. If you do not have one then Bamm tours will easily hire one for you. As I write this post we are in the Christmas season! During this period a lot of people held out to their shags or Village. The main reason is to celebrate with family during the Christmas season. Now with this vehicle; the Toyota Vanguard for hire Kenya or the Toyota Rav4 you will have great off-road performance because of its engine system capability.
Best Car Hire Company in Nairobi Kenya.
Certainly, a lot of people will hire the vanguard from Bamm tours and elsewhere. However, we'd love all of them to get them from us [insert smiling emoji]. We are always happy to render great services to the people of Kenya. You are spoilt for the choice between getting a Toyota Rav 4 or a vanguard. Over the years, we have been continuously voted as the best car hire company in Nairobi. Surprisingly, we do not know how it happens. But that's the truth of the matter. Try us out today and experience it for yourself, first-hand information.
One of the things that make us stand out is the quality of the vehicles that we maintain. Secondly, the seamless process of hiring the vehicles. Thirdly, our prices are pocket-friendly. 
Nairobi Car hire with a Driver.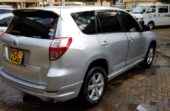 One of the best services that we offer is Nairobi car hire with a driver. Yes, you heard me right. We offer quality chauffeured services even with a Toyota Vanguard for hire Kenya, as well as, with other cars. For examples, Toyota Prado for hire, Toyota Land Cruiser V8, Tour Vans for hire, Safari Land Cruiser. Additionally, we have various types of buses for hire in Nairobi, Mombasa, Nakuru, and Eldoret; Rosa buses, Coaster Buses for hire, 33 seater buses, 44 seater buses, and 50 Seater Buses amongst other types.
Secondly, we offer other services such as airport transfers, whether it's Jomo Kenyatta Airport or Wilson Airport. We organize for your transportation whether in a salon car, Mini Suvs, 4×4 car hire, Luxurious cars for hire like a Toyota V8, Range Rover, Limousine, Convertible cars for hire Nairobi, and Mercedes Benz.
Toyota Vanguard for Hire in Nairobi.
Apparently, Bamm Tours is the best car hire company to get Toyota Vanguard from? We stock a wide range of vehicles, as mentioned above, well maintained and in good condition. Whether you are looking for short-term hire or long-term, Self-drive or chauffeured, we have the best car hire services just for you! Simply talk to us today, and we will be glad to serve you.
Vanguard for Hire near Kiambu rd.
Normally, we serve many customers across Nairobi. However, we find ourselves championing, those that live near Kiambu Road. Of course, this is the same avenue where we hold our office. So, next time you are looking for Toyota Vanguard for hire Kenya, and you reside close to Kiambu road, simply get in touch. we will serve you very speedily, conveniently, and timely.
Vanguard for Rent in Nairobi Kenya.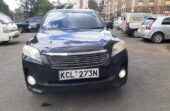 Occasionally, depending on where you hail from, you would either search for Vanguard for hire Kenya or Vanguard for rental Kenya. Either way, we understand your language. Therefore, if you are looking for a Toyota Vanguard for rent in Kenya, verily get it from Bamm Tours. We have been in this industry for quite some time and we have learned a thing or two.
Toyota Harrier For Hire Nairobi
It is in order to mention that other than the rav4 or a Vanguard, We have in stock Toyota Harrier for hire in Nairobi Kenya. This Vehicle offers almost equally the same experience. you can have a look at it here. Toyota Harrier
Bamm tours got all these in their garage waiting for you to hire them. We offer refreshments alongside our hired vehicles. Do not hesitate to talk to us now! We will be glad to get you a Toyota vanguard for hire in Nairobi Kenya. Get the best vehicles for hire from Bamm tours and safaris.
Toyota Prado For Hire.
It's good we mention that alongside the Vanguard or a Rav4 for rent, we also stock Toyota Prado For Hire. Of course, they come in different shapes and models such as Tx 120 0r Tx150. We have them in different colors too. For example, White, Silver, or executive Black! So, the choice is yours. Bamm Tours champions in these types of vehicles too.
Toyota Prado for rent is a full Four by four, 4x4WD, or SUV vehicle. Sometimes, customers would need the vehicle for quite a long time. So, as an economist, he would consider hiring a Vanguard to save money! Consequently, he would get a chance of spending half his budget, while the nature of his work is done appropriately.
Nissan X-Trail for hire In Kenya.
Similar to Vanguard for hire Kenya, is a Nissan Xtrail for hire. As much as the function and uses are similar, they are quite different in many ways. For example, the Xtrail is a Nissan while the Vanguard is a Toyota. However, both of them are classified as Mini Suvs cars for hire in Nairobi and Kenya in general alongside Mazda CX5 for hire Kenya and CRV for hire Kenya.
You can easily hire a vehicle from us at affordable prices! Conveniently reach us through our phone numbers as below;
For Bookings or Inquiries,
CALL/ WHATSAPP/ SMS

+254 712 004 003 /0754 004 003/

0743-142-615
Or, visit our offices; a few meters from AAR Hospital, Ridgeways, Kiambu Road.
[maxbutton id="1″ url="https://bammtours.co.ke/product/rav-4-vanguard/" ]