Cost of Hiring a Bus For a Day.
Relatively, the cost of hiring a bus for a day in Nairobi depends on several factors. One, How many seater Buses for hire do you need. Secondly, your proposed movements or details. Thirdly, the length of your stay with the said bus. In a nutshell, a 22 seater bus costs KES16,000/- for city disposal, an all-inclusive cost. 33 or 44 seater bus costs KES20,000/- while the 50 Seater bus will be KES25,000/-
Tour Buses for hire in Kenya.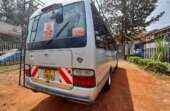 Normally, when people ask for tour buses for hire in Kenya, they mainly refer to a 22 Seater Coaster or a Rosa Bus. This is because it is an executive bus that is designed to carry tourists right from the manufacturer. Secondly, it has comfort and luxurious features such as window curtains, reclining seats, Air condition on all seats, Passenger seat belts, and an extra carrier for luggage.
14 Seater for hire Kenya.
Alongside the tour buses for hire is a 14 seater van for hire Kenya. Bamm Tours is fortunate to have all of them available for you. but, when you ask about the cost of hiring a bus for a day, we should as well let you know the cost of hiring a van too. So, the cost is normally about KES14,000/- within Nairobi, an all-inclusive cost.
Car Hire Nairobi with a driver.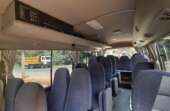 Obviously, whenever you are hiring a bus for a day Kenya, it comes with both the driver and fuel. Of course, the driver is a professional and qualified tour guide who is equally knowledgeable and helpful. Whenever you think of Car hire Nairobi with a Driver, simply think of Bamm Tours. Get in touch now. Whether you are looking for a Salon car, Toyota TX Prado, Toyota Alphard, or Voxy, we have them for you!
Tour Bus for hire in Nairobi.
By the way, we have other types of a tour buses for hire in Nairobi Kenya for you. For instance, Toyota Hiace for hire is a tour van. Next, is a Toyota Land Cruiser van for hire, which is fully customized as a safari van. Thirdly, is an Overland truck or Buses for hire. the latter carries a bigger number of passengers as compared to a Land cruiser. Through our sister company, Baecation Adventures, we offer safari packages within East Africa Region
Buses for hire in Kisumu.
Additionally, whenever you need buses for hire in Kisumu, we are able to organize for you. Whether you need your people to be picked up from Kisumu International Airport or from their village, it does not matter. Whatsmore, there is no additional cost, in case you are asking what is the cost of hiring a bus from a day in Kisumu.
Coaster bus hire Nairobi Kenya.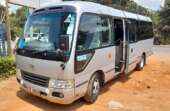 Toyota Coaster bus hire Nairobi Kenya is the most common bus you will see on our streets. They offer the passengers the comfort they deserve. We have written successful stories about the 25 seater Toyota Coaster bus for hire in our previous articles. However, we cannot relent to still do it again and again.
Hire Tour Van.
Conclusively, We to have available tour vans for hire. You may ask what is the cost of hiring a bus for a day? Why not ask the same for a van? we will spare you the effort. To hire a Tour van, the cost ranges from KES14,000/- per day. Although, always inquire from the office in case your destination is different from the stipulated ones.
FOR INQUIRIES AND BOOKINGS,
CALL/SMS/WHATSAPP:

0712004003 //0754 004 003//0743142615
EMAIL; info@bammtours.co.ke
[maxbutton id="2″ url="https://bammtours.co.ke/product/22-seater-bus/" ]