33 Seater Bus for Hire Nairobi.
In case you're planning an occasion, road trip, wedding, burial, dowry, or any other outing that requires transport for a more significant gathering of individuals, then 33 seaters bus for Hire Nairobi recruit may be the perfect thing for you! So, simply pick up your phone and hit our dials; 0712004003 / 0754004003 / 0743142615 /. and, we will be glad to serve you.
Buses For Hire in Kenya.
This 33-seater bus for hire is ideal for schools, clubs, and corporates. All the same, they are reasonable and a fantastic option in contrast to the public service vehicles, that are locally available, giving 33 seater bus for hire Nairobi, a more advantageous approach to ship individuals from Point A to B without the mass coordination transports, prepares, and taxis troubles.
In Nairobi, A minivan or minibus for hire is characterized as a vehicle that can convey somewhere in the range of 14 and 33 individuals. Most guidelines identifying minibusses apply to cars of this size – anything more modest falls into the PSV classification. To drive a minivan or 33 Seater bus for hire in Nairobi, you by and large need to have a D1/ class A license permit.
33 Seater Bus for hire in Mombasa Kenya.
So, alongside the Isuzu bus for hire in Nairobi, we have a 33 seater bus for hire in Mombasa. In other words, we have available a 33-seater Isuzu bus in Mombasa as well. Therefore, if you are looking for a bus that can take your people from Airport or Miritini Sgr, to take them to a hotel in the Coast region, we are the best-suited people to get it from.
Hire a Bus with a Driver.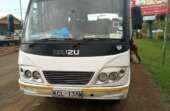 On the off chance that you need to take a 33-seater bus for Hire Kenya minibus, and charge the travelers or you don't meet all the details of the exception, you can discover more about applying for the applicable licenses and finding out about adding higher classifications to your present driving permit.
At Bamm Tours and Safaris, we have 14, 22, 25, and 33-seater buses accessible and available. You should not worry so much about driving because our buses are hired including a professional driver. plus, our drivers are qualified and licensed professionals.
Long-Distance Bus Hire Kenya.
We have observed that every time a need arises to travel upcountry, or, long-distance locations from Nairobi. People do not trust Matatu for hire service available on their route, rather, they prefer the professional 33-seater bus for hire. Of course, you can trust our buses to travel throughout East African countries. As a matter of fact, over the years we have taken people to Tanzania, Uganda, Rwanda, and Burudi. Therefore, when you are looking for buses for hire that can take your team on a long distances, either within Kenya or outside, always talk to us.
18 Seater Buses For Hire Kenya.
Whenever the number of travelers drops down from 20 to 18, we usually advise the use of an 18-seater bus for hire. In most cases, it's either a Mercedes Van for hire, A Rosa bus for hire, or a Toyota Coaster bus for hire. One of the main advantages of hiring 18 to 25-seater buses is that they have reclining seats. Actually, they are normally considered tourist buses for hire.
Buses for Hire in Kenya.
Nairobi is the central location where you can hire buses while in Kenya. However, we have other cities but the majority of people prefer to start their journies from Nairobi. So, should you require to book a bus for hire in other major towns kindly contact us. For instance, we have buses for hire in Mombasa, buses for hire in Nakuru, and buses for hire in Eldoret.
33 Seater Isuzu Matatu For Hire.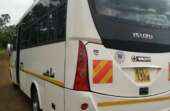 Ever since Corona hit our doors in Kenya country, we started observing Social distancing rules as the government directed. So, whenever the number of people is 33, we use a 50-seater bus for hire. When the number is 20, we use a 33-seater bus for hire. If the number of travelers is 15, we use a coaster bus for hire. Similarly, if lower than that, let's say 10, we use a 14-seater van for hire in Kenya.
Always let us know in advance the number of people traveling so as we can advise which bus for hire to recommend. Fortunately, nowadays, Kenya does not practice social distance and therefore we carry the maximum capacity of the buses.
Cost of hiring a Bus for a day.
I would say this depends on various factors such as;
The number of travelers,

travel destination(s)

final itinerary

Number of days

Type of the bus for hire to use
Every time you are inquiring about the prices or the cost of hiring a bus, always let us know the above. Since the price is not fixed. it is negotiable and you can always agree. 
It's also good to note that the cost of hiring a 33 seater bus in Nairobi Kenya includes both Fuel and Driver allowance. Buses for hire are never offered as a self-drive option vehicle.
Coaster Bus For Hire Kenya.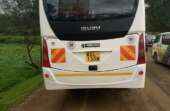 Should you feel that you need a bus for hire with comfortable and reclining seats, Air conditioning, Window curtains, and a refrigerator, then you need a Toyota coaster bus for hire. 33 seater Isuzu bus is basic and it's normally locally assembled and therefore it does not offer the above. It only takes advantage of the number of people it carries. Have a look at our other different types of buses available for you at an affordable price.
14 Seater Matatu For Hire
Customers' tastes vary. We prefer a 14-seater van whenever the number of travelers goes below 33. Have a look at our 14 seater vans for hire here. That is to say, we have in stock all types of public transportation that you may need irrespective of the number of people! Iike we've earlier indicated above, whether you need a 5-seater salon car, 8-seater van, 14-seater van, 18 or 22-seater bus, a 40-seater bus, or a 50-seater bus, we've got them!
Finally, where do you want to take your team members? How many days? What other extra services are you looking for? Why don't you take this chance and challenge us to handle your next trip? 
Get in touch with us now.
Call/ WhatsApp/ Sms:

0712 004 003 /0754 004 003/0743142615
Or, visit our offices; a few meters from AAR Hospital, Ridgeways, Kiambu Road.