Hire a Bus and Driver in Nairobi.
Have you been searching online on how and where to hire a bus and a driver in Nairobi? Well, worry and search no more. We have the right solution for you! Simply pick up your phone and hit our dials, 0712004003//0754 004 003// 0743142615, Our team will be ready to serve you!
Cost of hiring a bus for a day.
Not a single day goes without being asked this question, what is the cost of hiring a bus for a day? Of course, we've said again and again that the question is relative. Different types of buses are charged differently. For example, a 22 seater Coaster bus is KES16,000/- Per day within Nairobi, while a 33 or 44 seater bus is KES20,000/-. Lastly, a 50 seater bus is KES25,000/-. Just have that in mind, whenever you think to hire a bus and driver in Nairobi.
18 Seater buses for hire Kenya.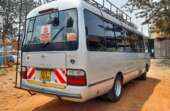 Occasionally, many customers ask for an 18 seater bus for hire online. Normally, we serve them with a 25 seater rosa bus for hire because the only smaller van we have is a 14 seater private van. So, whenever you need to hire a bus and driver in Nairobi, Coaster or Rosa bus are usually the best option for you.
Matatu for hire Nairobi.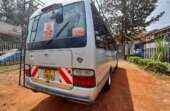 Similarly, customers normally ask or search online for matatu for hire in Nairobi. What they do not know is that we stock very nice 14 seater vans for hire, to meet this demand. Apparently, our Matatu vans do not have a yellow line strip as a requirement by the Kenyan law for Matatus. This is because ours are Private and there we operate under a different tax category, which is TRA. Therefore, our Matatu for hire is TSVs and not PSVs, Tourist service Vans and Public Service vans respectively.
Minibus hire Nairobi.
Undoubtedly, Bamm Tours is the only transport company that you can rely on for all your bus hire needs. Whether you need to hire a bus and driver in Nairobi, Minibus, tour bus, Matatu bus, we have them all available for you.
Car hire Nairobi with a driver.
Since we started as a cab company, we have always rendered car hire with driver services in Nairobi for some time now. Equally, when we grew, we developed the same services, that you can hire a bus and driver in Nairobi!
Tour bus for hire in Nairobi.
In most cases, people refer Toyota Coaster bus for hire as a tour bus for hire. This is mainly because, the bus has a luxurious feature, that makes the bus more comfortable than a normal matatu. For example, window curtains, Air condition, reclining seats among others.
School bus hire prices.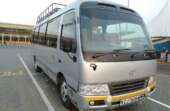 Nowadays, boarding schools outsource for transportation of their pupils during opening and closing days.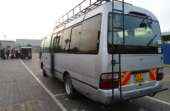 Actually, if you own or run a school, it is advisable to hire our executive buses for hire. Whether you are breaking for a midterm or end of term. We will organize nice buses to pick your kids and from school. This works out conveniently since students are transported in a professional way and on time. What's more, you hire a bus and driver in Nairobi.
For Bookings and Inquiries,
CALL/SMS/WHATSAPP:

0712004003 //0754 004 003//0743142615
EMAIL: info@bammtours.co.ke
[maxbutton id="2″ url="https://bammtours.co.ke/product/22-seater-bus/" ]