Toyota Noah Car Rental Nairobi.
Are you looking online for a reliable, trusted, and the best car hire company to get a Toyota Noah car rental Nairobi in Kenya? Well, look no further than at Bamm Tours. We have a wide array of well-maintained 7-seater vans for hire across Kenya. For example, in Nairobi, Mombasa, Eldoret, Nakuru, and Kisumu. Of course, all these vehicles come with a driver. So, please hit our dials; 0712004003/ 0743142615/ 0754004003. We will be glad to help you.
The Noah Car Rental Nairobi Kenya Performance.
The Noah car rental Nairobi, in Kenya, deserves an enthralling introduction. First, for its performance. Secondly, for its interior exhibition. This means that you get a multipurpose high-performance vehicle for your traveling needs in Kenya. The Toyota Noah is much more than a lifesaver. It is the best vehicle for a family escapade if you know what I mean. Luckily, the good thing is that Kenya is not flooding but Noah is ever ready.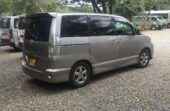 This post is dedicated to its smooth edges and well-done interiors. By the way, you can attend a dowry with Noah. At the same time, you can crush your executive meeting cruising with one. The Toyota Noah car rental Nairobi Kenya is a versatile breed of what can only be described as a luxurious SUV alongside the Alphard and Voxy. They have developed similar interests and lovers because of their close relations with Toyota Babies.
What's in the Toyota Noah car rental in Nairobi Kenya?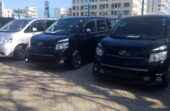 That's a good question and what we have been discussed above has partly answered the question. Why the Toyota Noah car hire? First, if you get it from Bamm Tours and Safaris Limited you'll not regret the decision. Secondly, with its spacious design, it can carry 7 passengers comfortably. With the extra accessories, we add to the package you get an opportunity to ride in luxurious riding. Additionally, we also have other bigger vehicles for your added number of travelers. For instance, we have 8-seater Tour vans for hire such as; The Toyota Hiace tour van for hire and the Toyota Land Cruiser safari van for hire. Secondly, we stock 14-seater vans for hire. Thirdly we have several types of busses such as a 22-seater bus for hire, 33 Isuzu polo bus for hire, 44 seater Hino bus for hire, and finally, the 50 Seater bus for hire in Nairobi.
Why Hire from Us?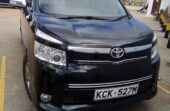 Bamm Tours and Safaris Limited is a car hire Kenya Company that offers the best in-car hires. When you hire from us you'll get the right vehicle to travel for either private tours or corporate travel. Bamm tours are committed to providing The Toyota Noah rental Nairobi Kenya for all travelers who need one. You can contact us through our various channels including our websites and social media handles; Facebook, Instagram, and Twitter.
Rent Toyota Voxy in Kenya.
Apparently, there's no big difference between a Toyota Noah for rental and a Voxy for rental. Actually, it's one and the same car. The difference is basically in the name and the rear design. Otherwise, all the other features inside the vehicle are pretty much the same. So, whether you are looking for a Voxy or a Noah for rental Nairobi Kenya, we've got it. Whether you are in Mombasa, Eldoret, Nakuru, or Kisumu, we are the right plug.
CALL/ WHATSAPP/ SMS;
+254712004003 //0754 004 003// 0743 142 615
EMAIL: info@bammtours.co.ke
Or, visit our offices; a few meters from AAR Hospital, Ridgeways, Kiambu Road.
https://bammtours.co.ke/toyota-noah-for-hire-kenya/