Toyota Prado Hire For Hire In Kenya.
We have a saying that says, the Toyota Land Cruiser Prado was built specifically for Kenya, or is it that Kenya was created for Toyota Prado? Anyway, the Toyota Prado hire combines both luxury and higher performance. If you wish to cover most of the parts of Kenya by Road, the Prado is the most preferred and advisable vehicle to use. We make this dream a reality by availing yourself of the cleanest Prados just for You! Toyota Prado is commonly used in both urban and rural areas; both arid and semi-arid. Whether you are a local Kenyan who wishes to adventure Kenya in style, this is the option to go for!
Whether you are visiting Kenya for the first time, the Toyota Prado suits both comfort and adventure! You are sure to finish your journey back and forth than any other vehicle model available in Kenya.
CALL/ SMS/ WHATSAPP: +254 712 004 003 /0754 004 003/ 0743 14 26 15 or Email us at info@bammtours.co.ke
Best Car Hire Company In Kenya.
If you are looking for the best Car hire company to hire a Toyota Prado from, Well, Your search ends here right now! We have different types of them. both Old shapes and new shapes, and different colours from silver, white and black. We have available both Models of Toyota Prado TX 120 and Prado TX 150. Currently, the latter is the most Newest and modernized vehicle.
Car Hire Nairobi Kenya.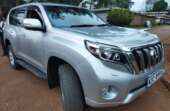 Occasionally, or frequently (depending on the purpose), Kenyans hire high-end vehicles range of cars for special occasions. Typically, they are looking for Prado to hire Kenya for weddings, private functions, or perhaps impress on a date or networking event.
Understandably, Prado rentals are one of the cheaper options for luxurious vehicles on offer by most car hire companies. It is a luxurious studious and versatile vehicle. Lovers of its build prefer to refer to it as a machine. The Prado for Hire Kenya offered by Bamm Tours comes in different shapes and sizes. We also present them in different colours.
Prados can either be in diesel or petrol. Some are in black, white, silver, or any other colour available during the time of hiring. We advise clients to book their vehicles with drivers because we do not do self-drive. When they book their vehicles we can easily provide them with the relevant information concerning the Prado for hire in Kenya.
Land Cruiser Prado Tx 150 Hire Nairobi.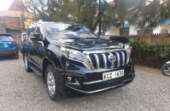 Obviously, the Toyota brand is a very popular vehicle in Kenya. Similarly, the Toyota Prado has won many hearts among Kenyans. They love its general appeal and its performance, especially in the off-road sector. Even though Toyota Prados are meant to be 7-seaters, we advise clients to use them as 5-seaters especially if they are travelling upcountry to rough terrain and bad roads.
Additionally, the choice between petrol and diesel depends on the clients. For instance, a couple might prefer a petrol Prado for their wedding because of less engine noise.
However, another person might book a diesel Prado because of the less consumption. As you can see from the pricing, the fuel is up to the traveller. The charges listed are exclusive of the fuel price. After all, it's up to the traveller to decide on the distance travelled. Also, the price is set per single day. In other arrangements, personalized pricing shall be agreed upon.
Reliable 4by4 Car Rental In Nairobi Kenya.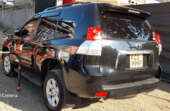 One of the concerns we have gotten from our clients is the aspect of the reliability of the services and vehicles. We also ensure clients before they take up Prado for Hire Kenya of unconditional reliability. Therefore, they get to enjoy the services we offer as the best car hire company.
Evidently, Bamm Tours is the best car rental company offering highly personalized travel experiences to enthusiastic people. You should try our services if you haven't already! We have partners that we work with, for example, Prado for hire for 4×4 car hire in Kenya and Beacation Adventures Kenya for hotel bookings. Obviously, we can also book a holiday vacation for you and your family. Similarly, we can book a conference facility for your organisation.
Cheap 4×4 Car hires Nairobi.
One of the best vehicles available for hire in Nairobi as far as 4×4 car hire is concerned, is the legendary Toyota Prado hire Kenya. This is simply because it combines both the sporting nature of the vehicle and the Four-wheel drive capabilities. Therefore, whether you are looking for the Prado Land Cruiser for Luxurious needs or as an all-terrain vehicle, it's the right choice.
Luckily, Bamm Tours is your only best car hire in Nairobi that provides cheap four-wheel drive SUVs for hire. From the smallest sized SUVs, or the Crossovers, if you prefer, to the Luxurious 4x4s such as the Toyota Land Cruiser V8, Range Rover, Nissan Patrol etc.
How Much Does it Cost to Rent a Prado Per Day?
There's never a day that goes without us being asked such a question. Of course, the cost of renting a Prado depends on various factors such as; The nature of car hire in Nairobi. In other words, do you need the vehicle as self-drive or Chauffered? Secondly, For how many days? Thirdly, To which county do you intend to use the vehicle? Normally, the minimum cost is KES13,000/- or 130$ Per day, self-drive option excluding fuel. In addition, the cost changes depending on your travel destination. Major towns such as Mombasa, Nanyuki, Nakuru, Eldoret, and Kisumu have higher accommodation costs.
Tx 150 Prado for hire.
Many people usually refer to the Toyota Prado as simply as the TX. However, the car has other models such as the Prado Tz and Invincible, among others. So, we are used to customers asking for a Prado Tx for hire in Nairobi Kenya. Actually, it's one and the same thing!
Your best car hire company in Kenya has in stock the best Toyota Land Cruiser Prado TX 150 just for you. Whether you need it for a short-term period of time or a longer time, please let us know. Similarly, if you need it for your own personal use, with your family, for your business meeting, or for your holiday, we are here to help you.
Vans for hire Nairobi.
Among the Prados, we also have in stock Vans for hire. Of course, there are several types of them such as; the 7 seater vans, in the category of either Toyota Noah or Toyota Voxy for hire, Tour vans, or Safari Land Cruiser van for hire. Thirdly, Toyota Alphard or Toyota Vellfire for hire. Also, in the second category, we have the Private 14-seater van for hire, popularly known as the Matatu for hire.
V8 for hire in Nairobi.
Suppose you need a more ideal vehicle than the Toyota Prado, do you know which other vehicle to pick from us? It's either the Toyota V8 for hire in Nairobi or a Range Rover. The car has a class of its own. What's more, we have in stock just for you! Bamm Tours is the right company to get all your Executive cars for hire including the Land Cruiser V8, Range Rover, Mercedes Benz, and Jeep Cherokee.
Monthly Car Rental Nairobi.
At times, needs arise for Kenyans or expatriates who visit Kenya for their short stays for a Month. Bamm Tours has designed Monthly car rental or Long-term car rental packages for several vehicles to cater to this need. For instance, we rent out the Prado at KES300,000/-  or $300 Per month on a self-drive basis.
The Crossover or Mini SUVs cars such as the Toyota Rav4 or Vanguard, Honda CRV, Nissan Xtrail, and Mazda CX5, at KES150,000/- or $150 per month.
Thirdly, our MPV vans for hire such as the Toyota Noah or Voxy, Honda Stepwagon, and Nissan Serena, at KES150,000/- or $150 Per Month.
Finally the A salon cars such as the Toyota Axio, Nissan Tiida, and Station wagons such as the Toyota Fielder at KES90,000/- or 900$ per month.
Why Hire TOYOTA PRADO From Us?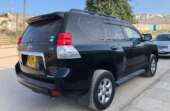 All our fleet is very well maintained. We service our Prado after every 5,000 Km covered thus they are always in good mechanical condition. unlike other companies. We maintain the Newest models and this makes us the preferred company to hire Toyota Prado from.
Our Chauffeured or car hire with a driver option Toyota Prado for hire Vehicles offer a very exciting experience in that your work is to just call, book and relax as you enjoy seeing scenic sites that Kenya has to offer during your exciting trip.
We offer free Mineral drinking water whenever you hire our Toyota Prado.
Depending on our relations, We can give you a Toyota Prado For Hire as Self Drive to make you run your errands or when you have your most trusted Driver.
In case of any breakdown, we replace another Toyota Prado for hire for you for free to enable you to continue with your journey uninterrupted.
Toyota Prado for hire carries 5 to 7 people,
You can either request a Petrol or Diesel Toyota Prado For Hire.
What are you waiting for? Pick up your phone and call us now to book your Toyota Prado for hire Now!
Prado for Hire In Nakuru Kenya.
Alongside Toyota Land Cruiser Prado rental in Nairobi, Bamm Tours has the Best Toyota Prado for rent in Nakuru Town. Fascinating isn't it? So, the next time you find yourself visiting Nakuru for a Holiday or business matters, you can consider hiring one of our affordable Toyota Prados for hire in Nakuru county! simply get in touch with us now. Normally, the rental price for a Prado in Nakuru is KES20,000/- or $200 per day.
Mombasa Toyota Prado for hire.
Additionally, at Bamm Tours, you will get affordable Toyota Prado Tx for hire in Mombasa County. Whether you need an Airport to Hotel Transfer, a city excursion, or for weddings, We will certainly get one Prado for you! Simply get in touch with us and let us know your needs. We also have a Toyota Land Cruiser V8 for hire in Mombasa at an affordable amount. What's more, you can hire it with a driver and enjoy professional services of money working for you!
The rental price for a Prado in Mombasa ranges from KES20,000/- or $200 per day for a car hire with a driver.
Rent a Toyota Prado for hire in Kisumu.
Additionally, You can rent a Toyota Land Cruiser Prado in Kisumu City from Bamm Tours. Whenever you need to explore Kenya, take advantage of affordable motor car rentals from the best car hire agency in Kenya, Bamm Tours. Our Prado SUV deals for hire in Kisumu Kenya come in handy. Whether you need to be picked up from the airport or explore the Nyanza region, Prado for hire is the best option.
It doesn't matter if you need the car on self-drive or with a driver, for short-term or Long-term, as an individual or a corporation. Just reach out to us, be sure we have the right solution for you!
Toyota Land Cruiser Prado rental in Kenya.
Rent a Prado in Kenya.
Prado hire services in Kenya.
Hire a Toyota Prado in Kenya.
Kenya Prado car rental.
Toyota Prado for rent in Kenya.
Affordable Prado hire Kenya.
Best Prado rental deals in Kenya.
Prado SUV rental Nairobi, Kenya.
Explore Kenya with a Prado rental.
For Bookings and Inquiries,
CALL/ SMS/ WHATSAPP: +254 712 004 003 /0754 004 003/ 0743 14 26 15
EMAIL: info@bammtours.co.ke
www.bammtours.co.ke
Or, visit our Offices:
Nairobi / Main office: a few meters from AAR Hospital, Ridgeways, Kiambu Road. Carman Showroom, Ground Floor, Office number 5.
JKIA Office: Terminal 2, Kairi Tours next to Avis Car rental.
Mombasa Office: Epic Business Park, Office A33, 3rd Floor Links Rd, Mombasa.
Eldoret Office: Eldo Centre Mall, Office Number 027, Ground, Eldoret.
Nanyuki Office: Oddesey House, Office Number 1, Laikipia Road directly opposite the main entrance of Cedar Mall., Nanyuki.
Nakuru Office: Kang'ei & Nyakinyua Building, Kenyatta Avenue, Opposite Nyayo Gardens, First floor Room 9